Indonesia's big cities may be filled with malls but with recent technology development, online shopping has become a major trend in the country. Most Indonesian are shifting their shopping preference from offline to online. Indonesia E-commerce association indicates that the potential for internet transaction could reach higher than US$24 billion. Blibli.com, Bukalapak, Elevenia, Tokopedia, Mataharimall.com, Lazada and Zalora are jockeying to sell their online products with various strategies in order to gain a slice of the business. Thanks to the great job delivered by earlier players, Lazada and Zalora, Indonesians are convinced that online shopping is a good alternative to offline shopping. Most of online shopping companies in Indonesia are backed with strong financial support namely, Blibli.com owned by local conglomerate, Djarum Group, Elevenia, is a JV between mobile operator XL Axiata and South Korean SK Planet, Tokopedia has received a US$ 100 million investment from a consortium of Japanese and US companies. And lastly, Mataharimall.com which was owned by another local conglomerates, Lippo Group , which set aside US$500 million as an initial capital.
E-commerce Transaction Value (BUSD)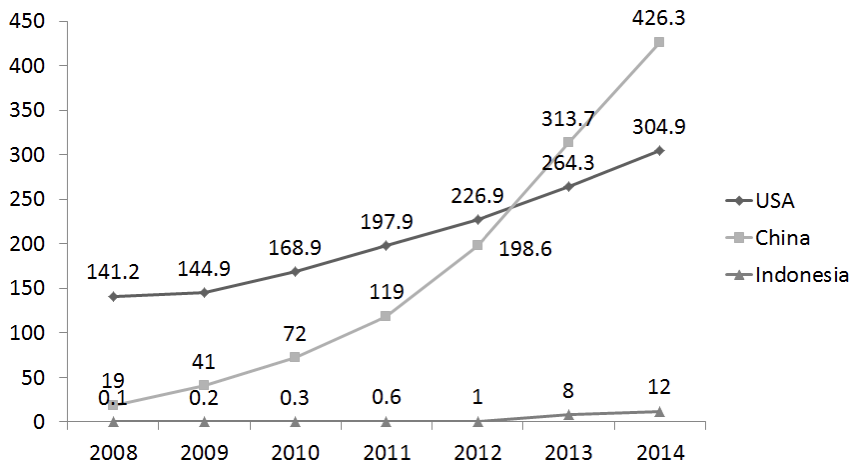 Source: Tempo, Ministry of Finance of Indonesia
In 2015, the value of E-commerce transaction was expected to double to US$ 24 billion, many are convinced that Indonesia E-commerce market will experience similar trend as with China five years ago. In fact, during the National Online Shopping Days period (3 days), the total sales per day reached up to US$ 150 million. There are approximately more than 75 000 SMEs that are relying on their businesses from the digital sector. SMEs contributed big portion to the nation's GDP (58% in year 2011). Expert believed by accommodating and empowering SMEs with relevant skills as well as infrastructure, there could be an additional 2% economic growth.
Backing the nation with broadband infrastructure is a big task for the Government. Only 15.8% of the population has access to the internet, with that fact, the Government had decided to focus on building broadband infrastructure in the next five years as part of digitisation national SMEs plan.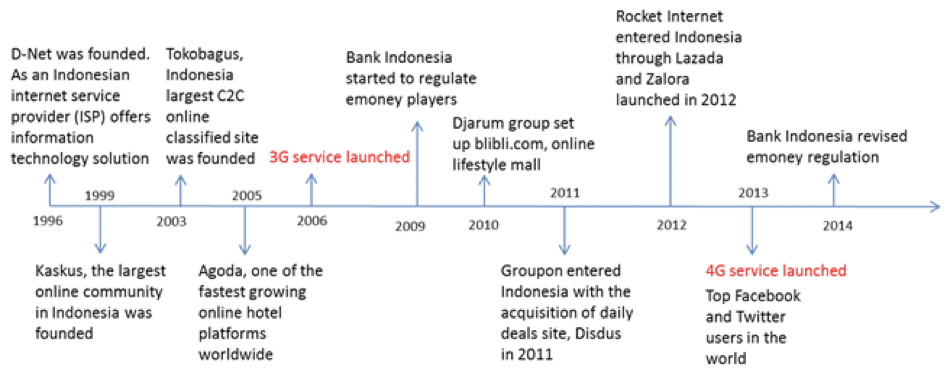 Source: UBS Global Research, June 2014
With Indonesians' increased spending power and the growing middle income class, retailers will continue to enjoy the positive impact of consumption habit in the next coming years. However, retailers should anticipate that potential online shoppers most likely are located far away from big cities.The readiness of E-commerce players should be balanced with the readiness of Government to provide relevant infrastructure in order to make the whole E-commerce business ecosystem work.
Most Used Device to Shop Online (%)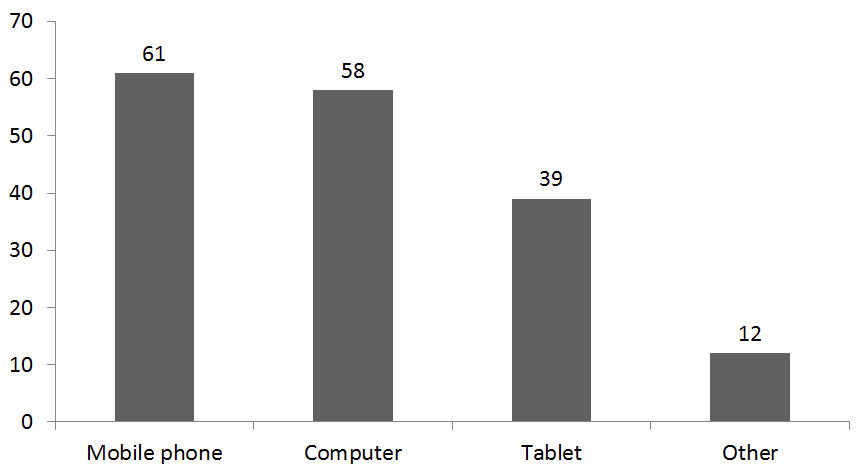 The broad category of products offered by internet retailing is a major threat to store-based / offline retailing. Increasing rental rate and employee salary are key operational cost that can be minimized by using online retailers, however, some may not fully agree to the above arguments because we are need to take into account of the expenses of current online retailers who rent big warehouse facility to keep their supply of goods.
Key B2C E-Commerce platforms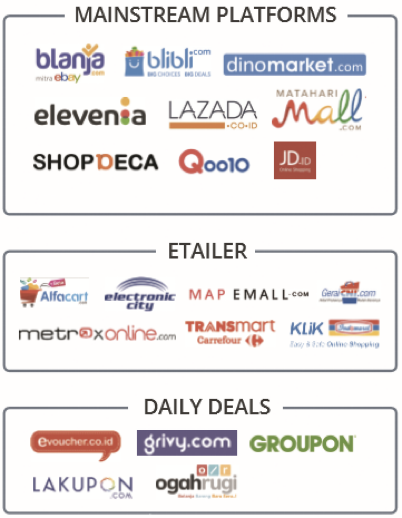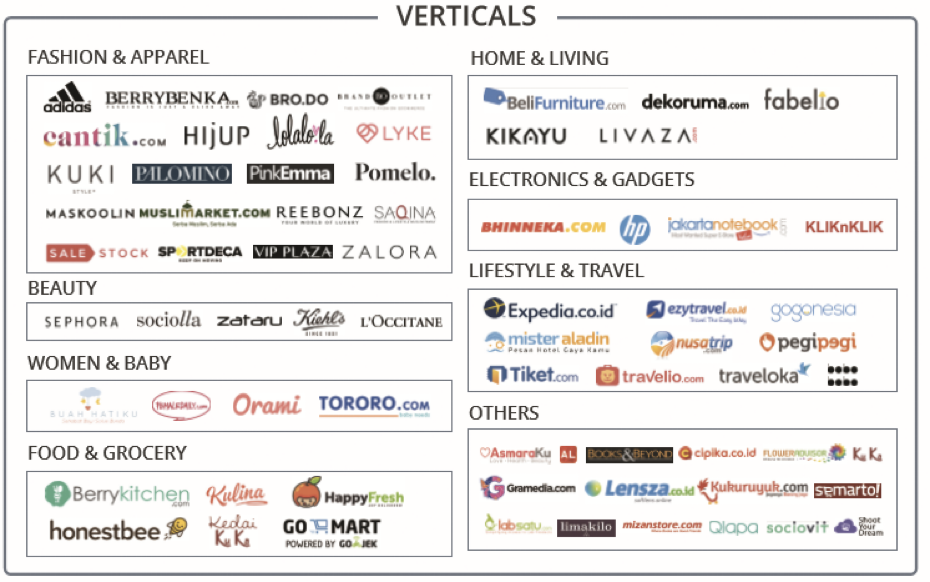 | | |
| --- | --- |
| Sites | Daily pageviews (in thousand, as of Oct 2015) |
| Kaskus | 5952 |
| OLX | 5807 |
| Lazada | 4574 |
| Tokopedia | 3395 |
| Bukalapak | 1672 |
| Elevenia | 1410 |
| Zalora | 1283 |
Top E-Commerce products
The top product for online shopping in Indonesia is clothing and apparel. During Indonesia E-commerce Summit & Expo (IESE) 
"Given the size of Indonesia, it may take some time before digital payments are widely used for retail E-commerce because the required infrastructure will have to be in place first" said Raj Dharmodaran, MasterCard Asia Pacific's group head for emerging payments
on April 2016, Indonesia e-commerce Association (idEA) highlighted, more than 65% of online shoppers bought items in this category. Other than the fashion (clothing and apparel) category, Indonesians purchased travel and holiday related products which accounted to 35%. Cosmetics category contributed 29%. Electronic goods/gadget are another promising product category that is purchased by Indonesians.
Another insight from the industry expert is that the average of Indonesian online shoppers spending range for fashion and apparel category is between US$15-20 and for electronic goods is US$50-60, however, this spending behaviour does not tally with the cost born by the advertiser to get one transaction which costs as much as US$ 60-80.
E-Commerce Payment Methods
The availability of various types of payment methods provided by online retailers makes Indonesians more confident and secure in their online shopping experience. From the most popular way in Indonesia, bank transfer (45% and most of them do it via ATM transfer), Cash on Delivery (COD) (30 – 35%), credit card (8%) and internet banking (5 – 6%) as the least popular way of payment. The online shoppers are allowed to choose their preferred method of payment. One drawback when online shoppers choose bank transfer is the rate of cancellation which can be as high as 30%. However, when online shoppers choose the COD type of payment, in most cases, the transaction will not be cancelled.
Industry challenges
Although it seems that E-commerce business is well established in Indonesia, the online retailers still find some challenges in the market. Below are some key challenges experienced by the online retailers in doing business in Indonesia:
Logistics infrastructure
The development of infrastructure of the western and eastern part of Indonesia are not equally the same. The western part is more developed than eastern part of the nation. This impact the transportation cost to eastern part, which is much higher than the transportation cost to the western part due to limited availability of routes.
As the development of the cities outside Java island may not be as developed as in Java island. The population outside Java island seek online retailers as their alternative shopping place since shopping complex is rather limited.
Indonesia's Chamber of Commerce (KADIN) declares that logistics cost in Indonesia reached 24% of total national GDP which is the highest logistics cost in the world. In comparison to Malaysia which is 15% as well as the US and Japan which are 10% from its GDP.
Zalora's Customer Base Distribution (2014)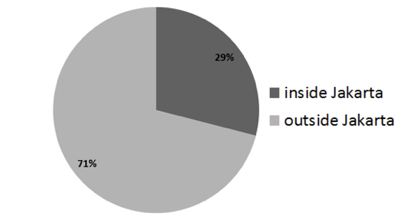 Source: Zalora presentation in Mandiri Investment Forum
Payment infrastructure
Most of the Indonesian population is non-bankable population which means that they prefer to use cash payment instead of credit card. Less developed payment infrastructure in Indonesia has led online retailers to adopt more conventional way of payment.
Trust issue 
Some shoppers may want to take advantage of a return policy since it is valid for 30 days which is much longer than compare to offline retailers, which only offers a 3 days return policy. Online shoppers will have higher chance to return the products after they have used it. Another example is when shoppers decide to purchase a product, they want to secure themselves by ordering 2 pieces of product with different size and try it when the product arrives. At the end, they will purchase only one product that fits them.
Opportunities in E-commerce 
Government of Indonesia earlier 2016 changed a regulation relating to E-commerce, that the business line is no longer in the negative investment list for foreign investment. Considering the huge potential that can be gained from this sector, Government takes a more flexible approach to large foreign E-commerce players to be part and compete with local players. With this positive change, giant players such as Alibaba and Amazon are yet to establish their presence in Indonesia.
Rising Stars in Southeast Asia – Business Opportunity Analysis