Indonesia's healthcare spending was the lowest among ASEAN countries, only 3.1% of its total national GDP. However, this figure is about to change along the way with the implementation of Universal Healthcare Coverage which by 2019 where all Indonesians will be insured and have an access to basic healthcare services. See below on the progress and timeline of Universal healthcare coverage.
Universal Healthcare Coverage Timeline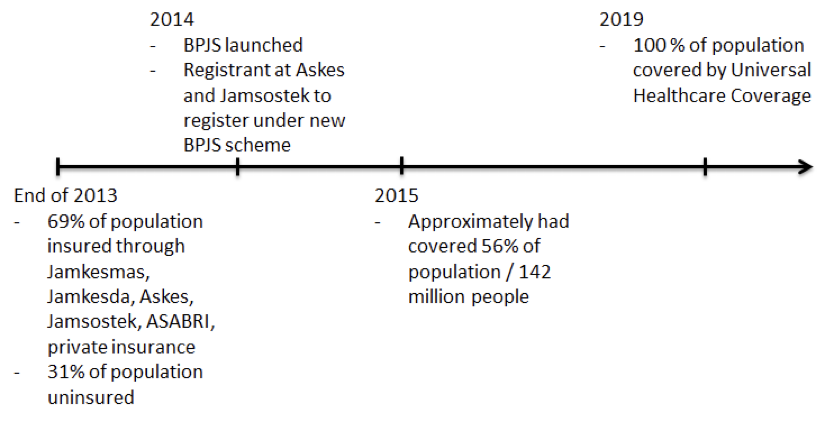 Source: Ministry of Health of Indonesia
Healthcare Spending (%of GDP 2013)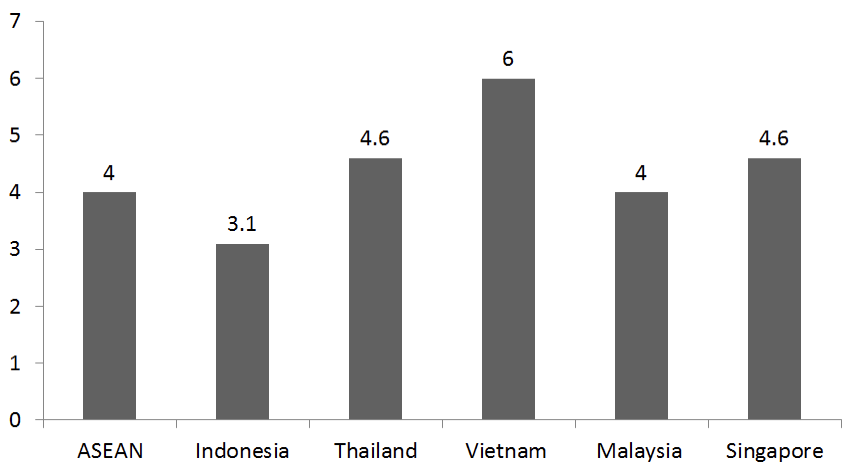 Source: World Bank, OECD
Indonesia's healthcare spending is expected to grow in relation to the Universal Healthcare Coverage implementation, however, the figure will not be seen immediately. Most of the spending will be driven by private spending rather than government spending.
Indonesia's private healthcare sector is much more developed in terms of the speed in implementation new technology – internal hospital management system or medical devices/technology for patient use in comparison to public sector. In most cases, Indonesia's hospitals are computerised, however, each department within the hospital or the hospital branches are not connected to one another. The hospital may developed their in house hospital management system and the development is still at early stage. When it comes to the patient medical record, most of data is still kept manually and handwriting, only small number of private hospitals in Indonesia that have started to keep the patient medical record digitally.
We believe without integrated data system or standardised data platform suggested by the Government, the information shared by the hospitals can vary and this will potentially create another delay on universal healthcare coverage implementation.
In terms of the quality of services, key private hospital chains have followed international standard services so called a Joint Commission International (JCI) standard. Although there are basic standard to follow in the healthcare services, in reality, there are big differences in health care services provided in the urban areas and rural areas. People living in urban areas especially Jakarta have greater benefit since there are more hospitals available in the city with more specialty services provided by hospitals.
Indonesia's Healthcare System

According to class classification, hospitals in Indonesia are divided into:
Public hospitals
Class A: >400 beds capacity
Class B: 100 – 400 beds capacity
Class C: 50 – 100 beds capacity
Class D: <50 beds capacity
Private hospitals
Priority: general medical services, specialist and subspecialist services
Madya: minimum of 4 specialist medical services
Pratama: general medical services
Indonesia Healthcare Spend (IDR trillion)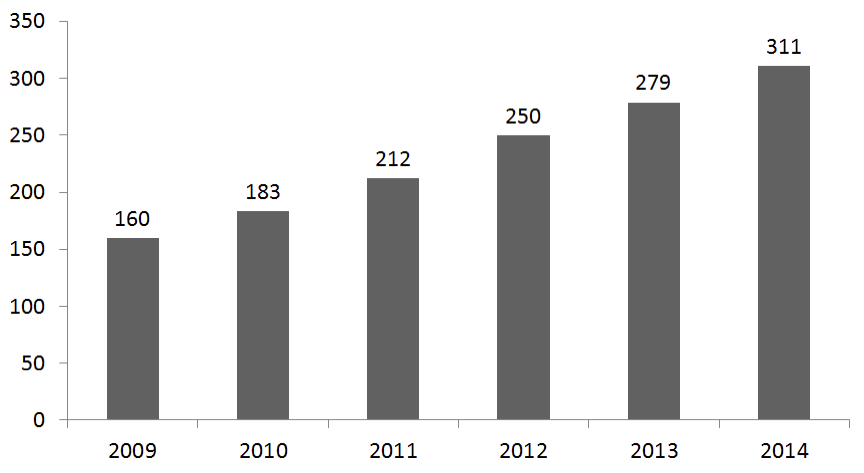 Source: BPS
Indonesia Public vs Private Hospitals (unit)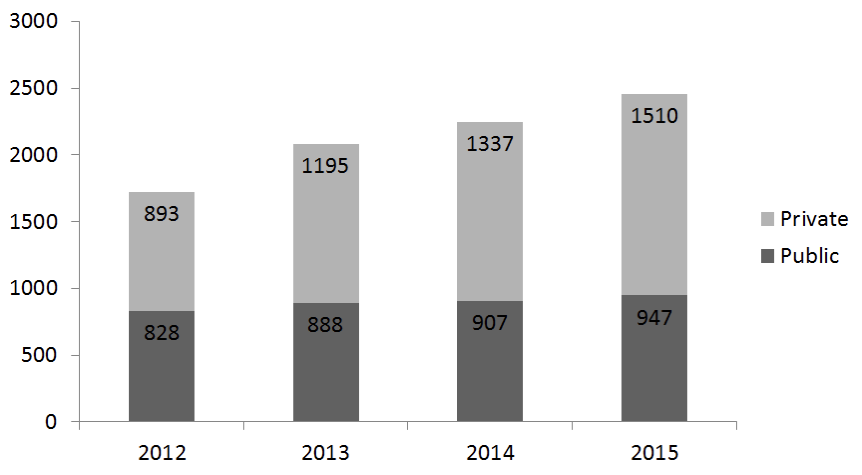 Source: Ministry of Health Indonesia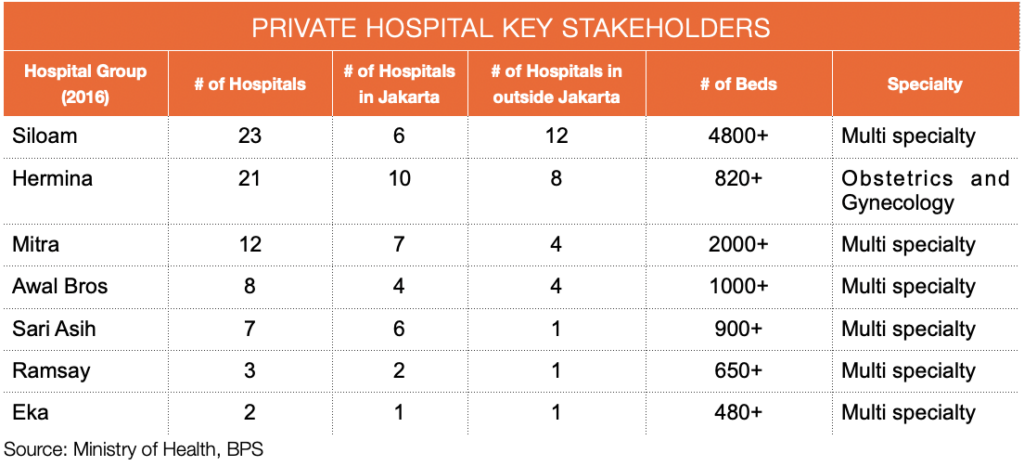 Although the healthcare sector offers tremendous opportunities, we have to remember that some challenges in the sector remain presence such as:
Limited human resources especially nurse and specialist doctors
Limited number of healthcare service bed ratio still low in comparison to neighbouring SEA countries. In 2014, the ratio for number of hospital beds per 1000 in Indonesia was 1.13. In neighbouring countries the ratio is Thailand (2.1), Singapore (2.0), Vietnam (2.0) and Malaysia (1.9). This could be one reason why many Indonesian move to other countries to find better healthcare services.
The middle class and above are looking for oversea healthcare services especially in neighbouring countries. Indonesia suffers from outbound medical tourism because of the lack of trust towards the national healthcare system.
Medical equipment
Indonesia's medical equipment are mostly imported (>90%) from overseas with Singapore as suppliers of patient aids and medical consumables and EU countries (mainly Germany) and USA as suppliers of diagnostic imaging, medical and surgical instruments.
Because of the limited knowledge and basic R&D related activities within the healthcare sector, most of Indonesian manufacturers are only producers of basic medical equipment such as beds, wheelchairs and various consumable products. Some of local manufacturers who have exported their products obtained international standard such as US – FDA approved manufacturer, ISO certified, CE European conformity manufacturer and other international certification.
Pharmaceutical 
Some foreign pharmaceutical companies have local presence in Indonesia. However, not all foreign companies are setting up their subsidiaries, they may choose a joint venture or a licensing cooperation model. This allow them to cooperate together with local manufacturers under particular international standard of certification and quality control.
Pharmaceutical Distribution Channel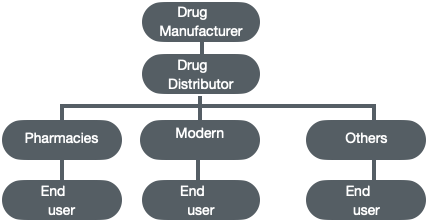 Key players in each category
Pharmacies
Retail pharmacy chains: Guardian, Century, Apotik Melawai
Hospital pharmacies
Clinic pharmacies
Modern market
Hypermarket: Hypermart, Carrefour
Supermarket: Sogo Foodhall, Farmers
Minimarket chain: Indomaret, Alfamart, Seven Eleven
Others
Traditional medicine stores
Opportunities in healthcare sector 
Various international companies within medical equipment, pharmaceutical or IT related to hospital management system are highly demanded in Indonesia healthcare both private and public. Main drivers:
The ongoing process of universal healthcare coverage
The growing middle class

More health concerned
Spend more on better healthcare services
Spend more on quality medicine
Indonesia is a big market for international companies who wish to distribute their products. At the same time, Indonesia holds potential for manufacturing. The local pharmaceutical manufacturers have produced various types of product under licensing with big international names such as Novell, Pfizer, Novartis and many others.
Industry Challenges
Key challenges in the healthcare sector is driven by protectionism towards local manufacturers. International principals who wish to enter Indonesia market most of the time will have to appoint local partners as their representative. In addition to that product registration itself that may vary from six up to twelve months of waiting time before the product (medical equipment) can be sold in the market and for pharmaceutical products in general will take more time than medical equipment except if the pharmaceutical product contain traditional medicine or herbal ingredients then, the registration procedures of those products will be faster.
Rising Stars in Southeast Asia – Business Opportunity Analysis