Indonesia is Southeast Asia's largest economy with 255 million people and with GDP of 888.5 BUSD in 2014. Despite the economic slow down during 2014 and 2015, Indonesia's economy was among the top worldwide performers. Indonesia is the only ASEAN country in G20. Solid macroeconomic fundamentals, strong domestic demand and recent upgrades in S&P ratings from BB+ stable to BB+ positive have made Indonesia an economy to watch in the coming decade.
Strong consumer spending will likely boost production and growth in the coming years. However, most of Indonesians (81.5%) are still living under poverty and have limited access to finance institutions.
| | |
| --- | --- |
| Area | 1.905 million sq km |
| Population | 254.5 million (2014) |
| Capital city | Jakarta |
| Major cities | Surabaya (East Java), Bandung (West Java), Medan (North Sumatera), Bekasi (West Java) |
| Government | Officially the Republic of Indonesia. Indonesia's republican form of government includes an elected legislature and president. |
| Language | Indonesian |
| GDP | 888.5 billion USD (2014) 3492 USD per capita (2014) 4.7% GDP Growth |
| FDI | 365.9 trillion IDR |
| Unemployment | 5.9% (2014) |
| Minimum wage | 38,333.33 – 103,333.33 IDR (2.96 – 7.98 USD) per day |
| Tax rate | Corporate tax – 25 % , VAT – 10% |
| Public debt | 26% of GDP |
| Inflation rate | 3.35% (2015) |
| Export | 150 282.3 million USD |
| Import | 142 694.8 million USD |
Indonesia overview
In this report, we highlighted that the manufacturing industry in Indonesia is highly affected by external factors such as currency fluctuation and government regulations. Indonesia's manufacturing sector is unseparated from the fact that raw materials and components are still imported from overseas.
Indonesia is well known for its natural resources and still the country relies on imported materials from Thailand. In April 2016 PT Denso Indonesia, a Tier 1 company in the automotive industry, told us that the company has to import raw materials such as plastic and aluminium from Thailand.
Despite the fact that Indonesia's neighbouring countries; Malaysia and Vietnam which have similar industry characteristics as Indonesia, joined the Trans Pacific Partnership (TPP) cooperation. Indonesia is taking further consideration before making any decision to be part of the TPP.Manufacture Industry Contribution to Indonesia's Export 2015 (BUSD)
Manufacture Industry Contribution to Indonesia's Export 2015 (BUSD)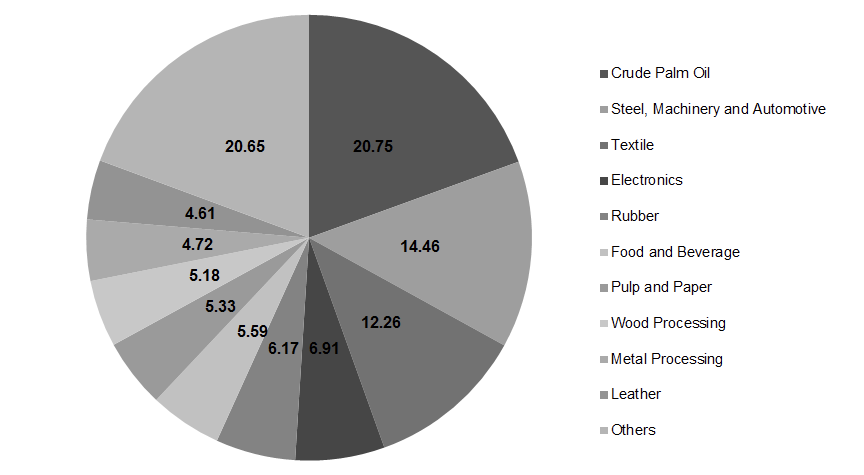 Source: Ministry of Industry of Indonesia
It is true that this TPP is a big hit for Indonesian manufacturers, however, some manufacturers remain positive and optimistic that in the year 2016 onwards the state of the economy will start to get better.
The scope in the economic partnership between the EU and Indonesia entail issues such as trade in goods, customs and trade, technical regulations, trade in services and investment, public procurement, intellectual property rights, competition policy, transparency of regulations, dispute settlements and trade and sustainable development.
The outcome of Jokowi's state visit to Belgium in April 2016 has resulted in positive impact on many industry players. Despite the agreement will take a few years to be effective, we noticed that some key industries will continue to give contribution to Indonesia's GDP, however worth to note that other key industries have shown significant growth that can't be neglected. In this report, we strongly believed there are numerous opportunities within below mentioned areas:
Sourcing of textile and products and distribution of textile machineries
Entertainment and media
Telecommunication esp. mobile payment and mobile advertising
Ecommerce
Distribution of medical equipment and IT healthcare system and sourcing of pharmaceutical product
''Official negotiations on the European Union – Indonesia comprehensive economic partnership agreement (IE-CEPA) are expected to start shortly this year and its completion is anticipated for 2019.'' said Indonesian Trade Minister Thomas Lembong on April 24, 2016.

Source: The Jakarta Post "Indonesia-EU CEPA set for 2019″
Rising Stars in Southeast Asia – Business Opportunity Analysis