Telecom and Mobile is one of the most prospective sectors in the country and will continue to grow stronger in the coming years. In this section, mobile is the focus, since fixed line is losing popularity because of the declining subscribers. Added with the fact that Indonesia has finalised the national roll out for 4G network (at band 1800MHz) on Mid November 2015, the subscribers are expecting to enjoy faster internet access through their mobile and other gadgets. The data usage growth in Indonesia has been massive, top 3 telecommunication operators (Telkomsel, Indosat and XL Axiata) are increasing or maintaining their CAPEX investments level to improve their services to their subscribers.
Current condition
In 2015, Telkomsel, a Telkom subsidiary has recorded a positive growth in terms of revenue despite the economic slowdown. Indosat Ooredoo has strengthened their position as the second largest mobile operator when they beat XL Axiata based on the number of subscribers. Although XL Axiata tried to secure their position to be the second largest operators from few years back through an expensive acquisition process of Axis mobile (another smaller sized operator with 17 million subscriber base), they have to be happy with the current position as the third largest operator in Indonesia.
Telkomsel, Indonesia's State Owned Enterprise (SOE) mobile operator, still continue to be a market leader with 152 million subscribers; 74 million data subscribers which 40 million are smartphone users, then followed in the second position, Indosat Ooredoo, with 69 million subscribers; 50% of their subscribers are in the 3G / 4G and other half are remain in 2G base, and in the third position, XL Axiata, with 41.5 million subscribers; 22.5 million data subscribers (54%) which 17.7 million smartphone user.
Indonesia Historic and Current Mobile Subscribers (in million)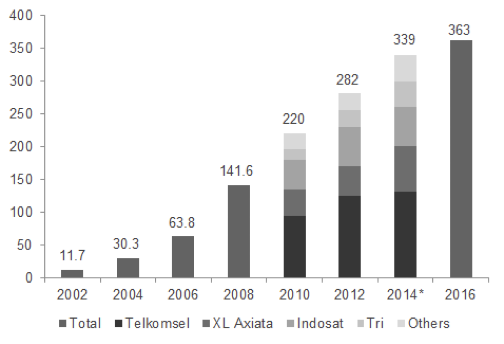 Source: Telkomsel and XL Company profile, Kompas
Indonesia's internet users have grown significantly from 84 million users in 2014 to 93 million users in 2015 and the number is expected to reach 102 million by 2016. 2015 the internet penetration was 36%. Not to forget that most Indonesian access internet through the mobile internet which again is shown by the 22% increase in mobile internet users from 55 million to over 67 million in year 2014 – 2015.
Smartphones are the preferred and easiest way to access internet. In 2015, Indonesia is reported to have approximately over 52 million smartphone and the nation's smartphone adoption rate was 35%. Source: emarketer
In addition to the smartphone distribution in Indonesia, Ministry of Telecommunication and mobile operators acknowledged that there are about 20 million devices with 4G features in the market, but, only 40 – 50% users who are utilising the 4G. It is because of the current subscribers have not change their sim card to the latest 4G sim card. Source: Indonesia LTE conference, 2016
With the high number of subscribers stated above, mobile operators should be able to enjoy increasing revenue. However, that is not always the case in the real market. Most of Indonesian subscribers are prepaid (95%) users while remaining are postpaid (5%) users. Mobile operators are still facing challenges to increase their Average Revenue Per User (ARPU) and to retain their subscribers. Indonesian subscribers is not loyal subscribers, they are price sensitive and operators are competing to offer the best and cheapest package.
We should note that this tremendous growth of mobile internet users and smartphone penetration rate in Indonesia is driven by the trend of social media. Indonesia is well known as the republic of social media, various social media or chat applications are blossoming in Indonesia, Facebook, Twitter, Instagram, Path, Line, Whatsapp and many others. Besides mobile internet that is subscribed to through mobile operators, we can see that many cafes or convenience store chains (Seven Eleven, Indomaret, Alfamart, K Circle, Lawson, etc.) are providing sitting areas with free WIFI connection to attract and retain customers through providing this services.
The movement towards digital lifestyle does not only show in normal daily life, some of the City Governments have initiated the movement and stated that they are part of digital society. Some major cities such as Jakarta, Bandung, Surabaya and Makassar are challenging themselves to be the role model for the rest of cities in Indonesia. The Jakarta Government is having a smart city team that will be in charge of setting up and monitoring various things happening in the city. Qlue is one of the example of local applications that is developed locally with the objective as a communication platform to connect the city and its society. If Jakarta has Qlue, another city, Bandung has its own command center. The Mayor of Bandung set up and installed a number of CCTV cameras throughout the city. Surabaya and Makassar are cities that implement similar approaches in their own innovative way that suits with their own local culture or habit.
Minister of Information and Communication, Rudiantara, who came from the telco background, has said that Indonesia will definitely need more stringent regulations on the OTT based foreign applications. In April 2016, the Ministry of Communication has issued a regulation that mentioning any international companies with OTT based will have to set up a local establishment in Indonesia in order to do business locally. These regulations are not only pushing international companies to pay tax locally in Indonesia, but also, subscriber to data and information protection, content filtering and others.
From our interview with one telco leader in Indonesia, they had confirmed that there is huge potential available for companies to be part of this mobile advertising and mobile payment segment. However, for international companies to have successful business in Indonesia, they need to localise as much as possible. Sweden continues to leaves good impressions in Indonesia and it is recognised as a leader in technology applications.
Indonesian mobile operators are continuously providing their best effort to meet their subscribers needs through various creative offerings. In general, mobile operators will divide the digital division into three different categories:
Mobile Infrastructure
Mobile Payment
Mobile Advertising
Big Data
Opportunities in Telecom infrastructure
Indonesia is unable to meet the subscribers expectation of stable and high speed mobile connectivity. The current BTS towers in Indonesia are far from enough and there are more towers to be built.
"Currently, Telkomsel (largest mobile operators in the market) owns 115000 towers (which still mostly provide 2G and 3G network). Currently, one BTS tower accommodate 1700 subscribers, which compared to South Korea and SK Telecom's high speed internet, where one BTS tower only accommodates 600 subscribers. Network planning and improvement plan will continue to be the important agenda.''  Said Mr. Ivan C Permana, VP Technology Planning of Telkomsel
Other operators, the second and the third largest mobile operators, Indosat and XL had achieved positive financial performance on Q1 2016, they recorded a profit y-o-y from previous year which still recorded as a loss. Operators are expected to perform in the most efficient way and to provide the best and 'near free' services since Indonesia call and data rate are the cheapest in the world.
Network sharing could be considered as one alternative for cost reduction since it could save up to 20 – 50 % for operators' OPEX and CAPEX."  Said Mrs. Dian Siswarini, CEO of XL Axiata. "Building tower alone is not enough to accommodate the tremendous growth of data traffic demand, improving and building up the fiber network infrastructure should be followed too." she added.  Source: Indonesia LTE conference, 2016"
Opportunities in mobile payment
Cash is still the most preferred method of payment by most Indonesians esp. for those who are not living in the urban areas. The unbanked society in Indonesia is much larger than the banked society, in 2015, only about 20% of 250 million Indonesians have a bank account. The banks and mobile operators are working together to get people in rural areas to put their cash in the system. The main reason why a limited number of people utilise banks in rural areas is not because there are few banks or they do not understand the benefit of saving their money in the banks, Riba, it refers to 'charged interest' in Islamic bank concept. With Riba, people feel more secure to be debtors or creditors because they are aware of where the money comes from and what the money will be used for. In comparison to the banks, most of them hardly trust the banks, they are worried that the money they saved will be use for "less good" purposes, for example, loan given to mining companies that ruin the environment.
Indonesia's banking sector is largely dominated by commercial banks, which control 97 percent of total deposits and assets. It is also highly concentrated: the three top institutions (Bank Mandiri, BCA and BRI) represent 35 percent of the total assets while the top five institutions represent 50 percent of total assets. However, with a total of some 11,000 bank offices, commercial banks are currently providing access to financial services to less than 20 percent of the population and face some fairly overt limitations in their reach.
Although the unbanked society still is big, on the other side, in major cities, the electronic money card transaction value has increased from 1.4 billion IDR in 2009 to 7.7 billion IDR in 2014. The card can be used for various types of payments such as paying tolls, parking, train ticket, BRT tickets and mini market stores. The reason behind the popularity and widespread usage of these electronic money card is because the card itself is not linked to the user's bank account and users are able to top up the card simply by paying cash to the dedicated top up merchants or banks. Currently there are 19 electronic money issuers in Indonesia consist of 8 public banks (BCA, Mandiri, Mega, BNI, BRI, Bank DKI, Permata, and CIMB Niaga), 1 regional bank and 10 non-bank institutions (including mobile operator companies)
The Government continues to seek for more proper regulated electronic payment systems and transactions in Indonesia. Effective from 9 November 2016, the Regulation recognise providers of payment gateway and e-wallet services, among others, as Payment System Service Providers (Penyelenggara Jasa Sistem Pembayaran—"Service Providers") in Indonesia, and licensing, approval and reporting requirements now apply to these services.
Some key points of the regulation:
All payment gateway Service Providers, and e-wallet Service Providers that have (or plan to have) at least 300,000 active users, must obtain a Service Provider license from Bank Indonesia.
While e-wallet Service Providers with less than 300,000 active users do not require a Bank Indonesia license to carry out their e-wallet business activities, such companies are required to file regular reports to Bank Indonesia which cover information on, among others, company profile, general overview of the company's e-wallet activities, number of all users and revenue target
Further details can be found on Bank Indonesia Regulation No. 18/40/PBI/2016 concerning the Implementation of Payment Transaction Processing. Source: Bank Indonesia
P2P type of loan applications are available locally and still at early stage development for example Modalku which claims to be the first P2P lending platform that uses an escrow agency to provide transparency in lending and borrowing is backed up by one of the commercial bank and Dana Didik with smaller funds. Dana Didik, a local application which allow their members (mostly vocational school students and university students) that are in need to finance their educational and get loans from lenders. There are still small number of players that exist in this sub segment, thus, numerous opportunities are available for companies to tap into this subsegment.
With Modalku's technology-based approach, we're very serious in dedicating time to push for access to SMEs that need working capital, in line with efforts to boost the country's growth," said Reynold Wijaya, CEO and c"o-founder of Modalku
In Q4 2016, Fintech startups grew from 51 to 135 companies during last year's first quarter. The rapid growth needs to be anticipated in order to protect consumer interests, especially related to funds and data security issues and national interests in prevention against money laundering and terrorism funding, and financial system stability
At the end of 2016 OJK issued OJK Regulation (POJK) No. 77/POJK.01/2016 on Information Technology-Based Lending Services (LPMUBTI) which is expected to support the growth of the LPMUBTI industry or Fintech Peer-to-Peer (P2P) Lending platforms, as new financing alternatives for communities that have yet to enjoy optimal services from conventional financial services industries, including banks, capital market, financing companies, and venture capital firm. Source: OJK (Otoritas Jasa Keuangan) / The Financial Services Authority
Opportunities in mobile advertising
The advertising subsegment is another attractive area for companies to look into. With 50 million SMEs in Indonesia and only 100,000 of these businesses are online. The mobile operators also confirms that the shift from conventional advertising to digital advertising is an opportunity to increase the ARPU. The effectiveness of using digital advertising is proven to be higher than conventional advertising. The data is easier to analyse and thereby the ROI of mobile advertising campaigns. The budget spends by companies for digital advertising is much less than the conventional way, however increasing as awareness and knowledge of the Mobile advertising rise.
One of the mobile operator that we met for this study admitted that the growth within their digital ads department were in a double digit growth and this trend is expected to continue in the next 5 years.
The number of SMEs in Indonesia combined with the trend of shifting from conventional advertising to digital, will boost the business opportunities significantly.
Opportunities in big data
We mentioned briefly that digital advertising have tools that can be used to measure and gather data about the effectiveness of the campaign. Data capturing is possible as early as from the awareness phase until the last action which is to purchase the goods or services. Other than that, subscribers now perform many of their daily activities through mobile phones which allows mobile operators to have access to valuable data. Big data gathered from each customer means a lot for the product companies as well as the mobile operators. Mobile operators have difficulty in finding the capable human resource to process and formulate these valuable set of big data into a meaningful information. Mobile operators try to utilise data monetisation as a new way of revenue source in the competitive market space. Our finding from industry expert is apparently similar to what had been surveyed by McKinsey (Telcos: the untapped promise of big data) to over 250 top global telecom executives. Most of them are already or about to invest in big data and analytics as part of their strategy to increase company's revenue.
Rising Stars in Southeast Asia – Business Opportunity Analysis