Textile and Textile Products
Textile and Textile Product Sector (TPT) is one of the main drivers of Indonesia's exports. Despite a big drop in terms of GDP contribution, only 12.3 BUSD last year, down 4% from the previous year, the Government is confident that TPT will be able to play a stronger role in the coming future. The Government has implemented a machinery restructuring program and continues to oversee if any policy tweaks within special economic zones, new tax holiday, incentive to purchase new machineries would be able to bring positive impact to manufacturers.
According to BKPM (Indonesia Investment Coordinating Board), the investment in this sector continues to rise and 2016 was a good year. In 2015 BKPM recorded a positive growth on TPT investment realisation, in the first 1/2 year the investments increased by 58 percent, Rp 3.88 trillion (US$290.52 million) compared to the first semester of 2014. The textile fiber processing industry grew 213 percent to Rp 2.4 trillion (US$176 million), the weaving textile industry grew 613 percent to Rp 163 billion, the clothing industry grew 16 percent to Rp 941 billion and the clothing accessories industry grew 563 percent to Rp 216 billion. 
Textile and Textile Products Industry Value Chain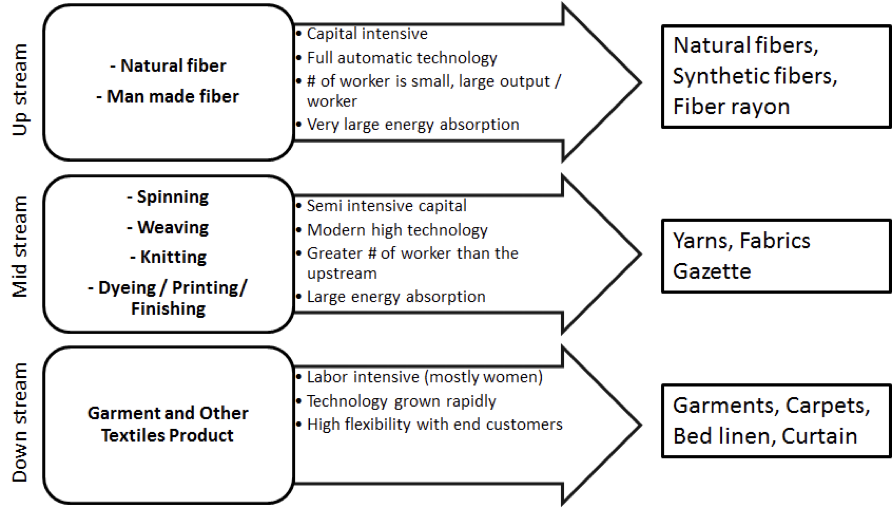 Indonesia has been a long time textile and garment player in the international market. This industry operates in an integrated way, embracing synergies across industries, including spinning, weaving, knitting and garment manufacturers.
Indonesia's TPT subsector export in 2012 (100% = US$ 12.46 billion)
Source: BPS, API
Based on the observation of TPT export statistic, garment, yarn and fabric were the main contributors for the sector revenue. Garment will continue to be the most important product with US, Middle East countries and EU countries (particularly Germany and UK) as the top exporters of Indonesia's garment product.
Indonesia's Textile and Textile Products Export Market Share 2015 (%)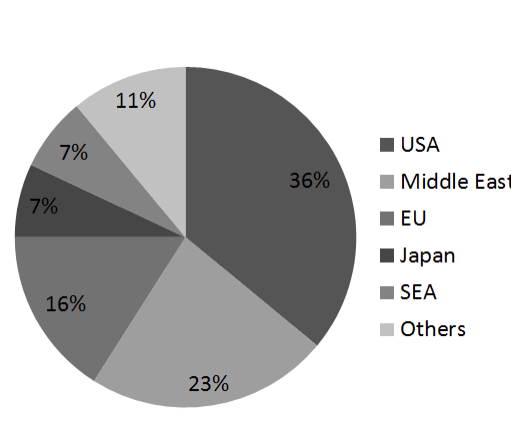 Source: API
Indonesia's TPT sub-sector export 2015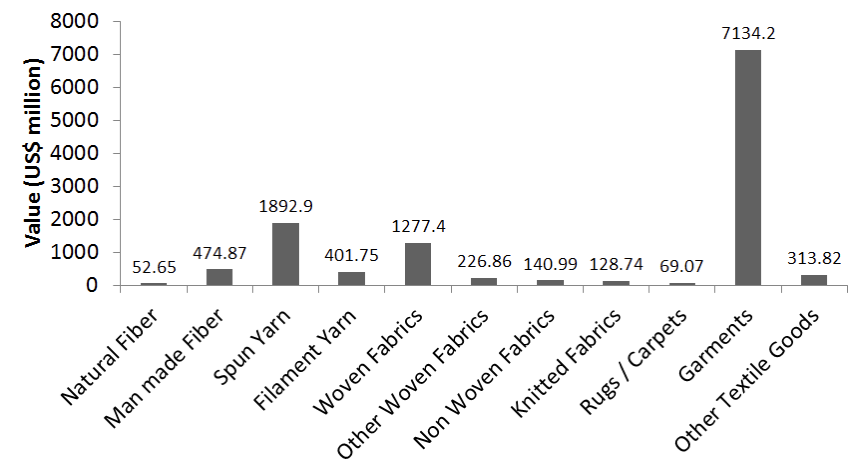 Source: BPS, APSyFI
Key stakeholders
In 2012, it is reported that number of TPT companies in Indonesia were 2930 companies. However, in 2015 several smaller companies had to close down because of high production cost and low market demand.
Few reputable companies that should be noted as important key players based on each product category.
| | |
| --- | --- |
| Company | Product |
| Ever Shine Tex | Yarn, Greige, Fabric |
| Unitex | Yarn, Greige |
| APAC Citra Centertex | Yarn, Greige, Fabric |
| Pan Brothers | Garment |
Brief profiles of a few TPT companies in Indonesia:
Pan Brothers is known for its high quality garment manufacturing facilities that can produce from the basic to the high end model of apparel and a proven ODM/OEM for superior brands – H&M, Uniqlo and many others. The company can produce up to 75 million pieces / year and is currently adding another 3 new facilities with the expectation of production capacity to reach up to 96 million pieces / year
Sritex is known for its yarn, fabric, apparel and military uniform that has 100% of its production exported. Sritex is supplying military uniforms to more than 30 countries including NATO, European countries (Germany, Sweden, Norway, Netherlands, etc.) and other Southeast Asian countries
Metro Group is known for its high quality men apparel products and is trusted by European Principles such as Pierre Cardin (for the past 25 years), Olymp, Mexx and many others. The company group can produce as many as 14.4 million pieces of men shirt / year
Opportunities in Indonesia's TPT industry
Garment sourcing and distribution of TPT machineries are key opportunities in Indonesia.
Indonesian manufacturers are optimistic that Government will be cooperative with the industry players. Indonesian textile and garment capabilities are well known internationally for its high quality products and are supported by international certification such as WRAP, ISO, GSV etc. New machinery are mostly imported from Europe and Japan (Saurer, Staubli, Muratec, Goller and others) with routine maintenance schedules.
Indonesia is not only a potential country for manufacturing or sourcing base, there are opportunities for textile machinery companies to find potential distributors/customers in the market. As can be seen from below machinery import value from European countries.
Textile Machinery Import Value (MUSD)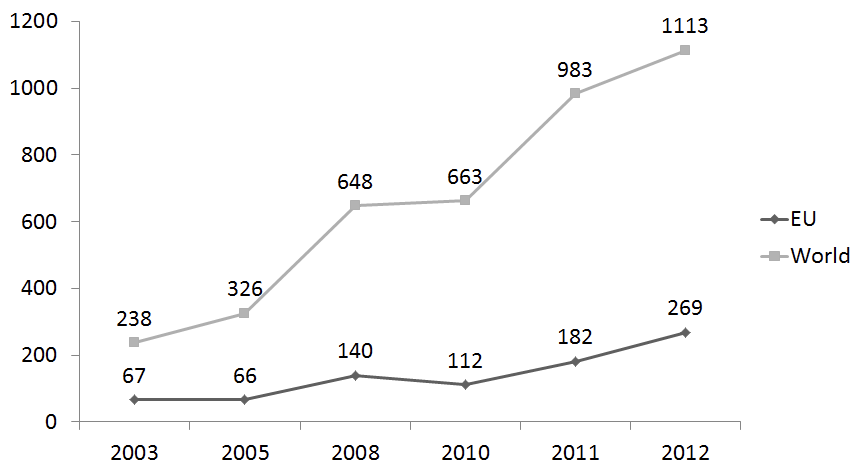 Source: API, Ministry of Trade of Indonesia
Based on data gathered by Ministry of Trade, Germany, Switzerland, Italy, France and Belgium were the countries where most of the textile machinery originated. The growth of imported machinery will continue to grow since Indonesia's Government initiated the machinery restructuring program to boost TPT industry.
Industry challenges
Although the industry had a presence for long time, it does not mean that companies are able to solve the problems and challenges that exist in the sector. Most of the challenges are caused by external factors as stated below.
Foreign exchange volatility
The fluctuation of foreign currency, in particular USD towards Indonesian rupiah (IDR), over the past few years had big impacts on companies. Indonesian manufacturers had to source high quality raw materials overseas, mainly cotton from China and fabrics from India. It was reported in 2015, the total imported cotton had reached 674 450 tonnes (valued at 1.096 BUSD)
High production cost
The minimum salary level in Jakarta and most cities in West Java province is now much higher than it was 3 – 4 years ago. Few years back many companies decided to relocate to the city/province where the employee salaries were lowest. Central Java is the province with lowest minimum salary level in comparison to other provinces in Java island. Unfortunately, the relocations were unable to solve the companies' issue. All companies were not ready to cope with these changes and furthermore, the skills and experience available in the new locations did not fully match expectations.
The same goes with cost of electricity which has increased about 40% since mid-2014 until now, which is massive hike in such a short period of time. And lastly, high/increasing land price have forced companies to close down and relocate to more economical places. These are some key obstacles that caused current Indonesian TPT development to be much slower.
Low domestic and international demand
Economic slowdown has hit almost every sector of Indonesia's economy not only TPT. In addition to that Indonesia is flooded by imported goods from China that disrupt the flow of local goods. Illegal trade activity in textile and imported patchwork and used clothing (which should not be imported) has become an additional threat to the local TPT market.
Rising Stars in Southeast Asia – Business Opportunity Analysis