Thailand is the biggest automotive manufacturer in Asia and the 10th biggest in the world. There are 1,657 automotive parts manufacturers and total 2,237 factories, most of them are SMEs (2014).
There are approximately 2,400 automotive suppliers in the country, 709 of which are original equipment manufacturers (OEMs). 78.8% of Auto Parts export is OEM parts. The Japan Automobile Manufacturers Association stated in their report that Thailand-made automotive parts have the highest quality among ASEAN countries.
Structure of Thai Automotive Industry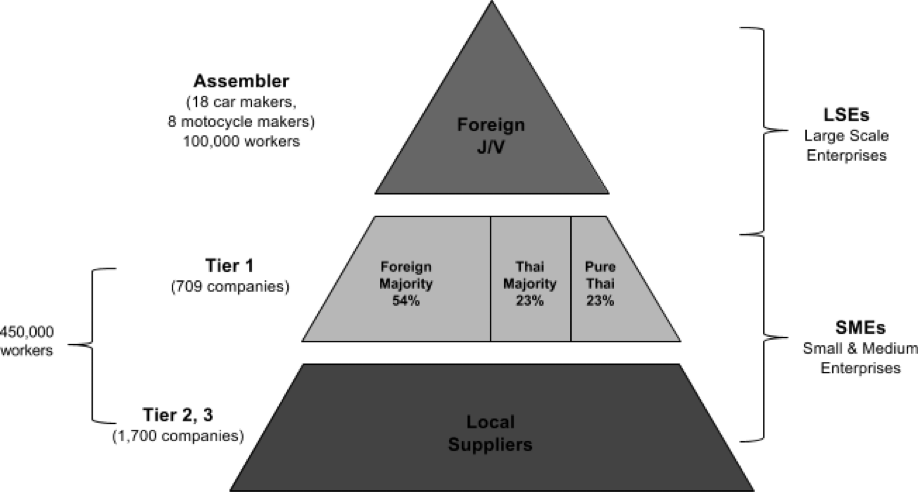 Source: Thai Autoparts Manufacturers Association, 2014
Thailand's Auto Parts Export 2014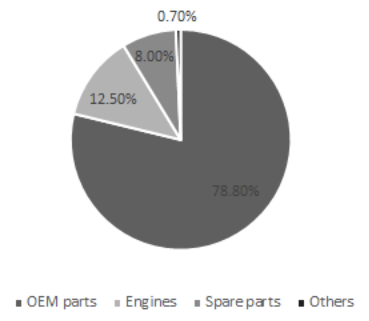 Key stakeholders
A few decades ago Japan, America and Europe has moved their manufacturing base to Thailand. These investment helped building the good manufacturing infrastructure in automotive and parts. The quality of Thailand's automotive parts is trusted by many car manufacturers. Deloitte Touche Tohmatsu Limited (Deloitte Global) and the Council on Competitiveness (the Council) released the 2016 Global Manufacturing Competitiveness Index (GMCI) and Thailand is ranged the 14th.
Automotive Manufacturers with Assembly in Thailand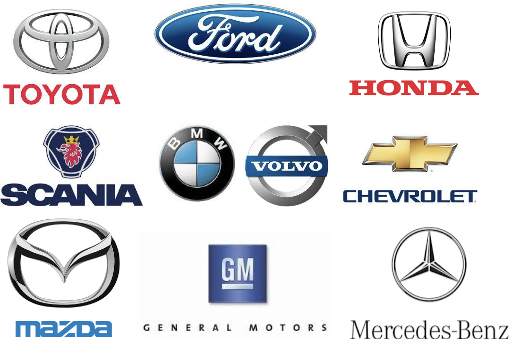 In 2016, BMW announced that they are increasing their production capacity. Moreover, they are planning to open a Global Purchasing Office to buy automotive parts from Thailand to support 30 factories in 14 countries. Honda opened a new automobile assembly in Prachin Buri to serve their production as well.
Opportunities in Thailand's Automotive industry
There are approx. 1,9 million personal and commercial cars produced in 2015, 40% sold domestic and 60% export.
Most of the manufacturers and parts suppliers are located in the central of Thailand; Bangkok, Ayutthaya, Pathumthani, Samut Prakarn, Prachin Buri, Chachoengsao, Chonburi and Rayong.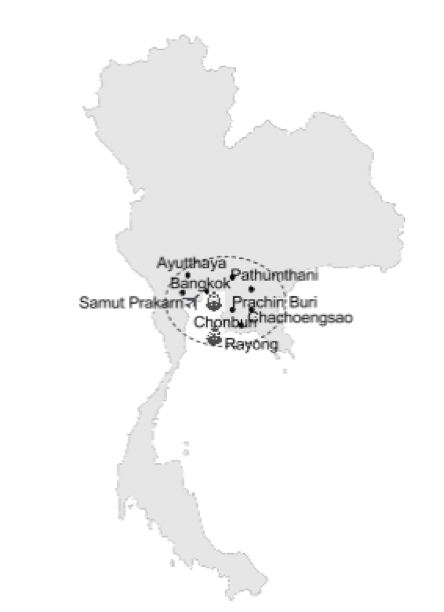 The central location builds a strong cluster. Parts manufacturers and assemblers are connected by a good logistics infrastructure to deep seaports in Bangkok and Chonburi and main airport in Samutprakarn.
Automotive and parts is a strong government support industry. The Thai government's vision is for Thailand to be the automotive production hub of Asia. There are many benefits from the Thailand Board of Investment (BOI) for foreign companies who invest in the industry such as
3-8 year Corporate Income Tax (CIT) exemption and an additional 5-year reduction of 50%
Exemption of import duty on machinery
Exemption of import duty on raw materials used in manufacturing export products
Permit to bring skilled workers and experts to work in investment promoted activities
Permit to own land
Permit to take our or remit money in foreign currency
Moreover, if the companies invest in the Super Cluster Automotive zone (Phathumthani, Ayutthaya, Nakhon Ratchasima, Prachin Buri, Chachoengsao, Chonburi, and Rayong) in 2016/2017 there will be additional benefits.
8 year CIT exemption and an additional 5-year reduction of 50%
Possible to extend to 10-15 year CIT exemption
Personal income tax for specialists both Thai and Foreign
Possibility to get a permanent residence permit
Many companies have enjoyed these BOI benefits and they are planning to expand their production to the super cluster zone in 2016 such as
Ford Thailand Manufacturing factory (FTM) has committed an additional 186 million USD to expand its new plant in Rayong.
BMW Group Thailand announced the opening of a new parts distribution center, spanning a total area of 14,000 square meters (6.3 million USD) in Bangkok Free Trade Zone.
Mazda invested over 500 million USD in its joint venture Auto Alliance Rayong plant to manufacture Mazda's new line of eco-cars, the Mazda2.
The ASEAN agreement is also an opportunity for Automotive industry to reach to 585 million people in the member nations with no tariff since 2015. Tariffs on auto parts exported to ASEAN nations have been eliminated entirely since 2010.
Industry challenges
Although the industry had developed and named as "Detroit of Asia", there are still challenges in the industry.
Environmental friendliness and International standard: Thailand need to increase the knowhow and also do R&D to stay ahead of the automotive technology trends as well as focuses on energy efficiency, eco friendliness, and safety standard.
Competition among ASEAN countries: ASEAN agreement create a larger market and at the same time a competition among ASEAN countries. Foreign investment and similar products will create intensive competition between the countries.
Rising Stars in Southeast Asia – Business Opportunity Analysis