Thailand is upgraded by the World Bank and become a medium upper income country in 2011. Thai lifestyle is changed; urbanisation, convenience and quality become a new lifestyle. Thai can afford premium/international brands. Shopping mall, departments stores and supermarket are popular place to hang out. E-commerce is also increasing. Social media is also raising brand awareness to people. According to Digital Advertising Association (Thailand), Thailand had about 30 million Facebook users in 2014.
Retail
Subsidiary and Franchise is an alternative. H&M opened their first store at Siam Paragon, Bangkok in 2012. In 2016, there are 14 H&M stores in Thailand. IKEA opened their first store in Bangkok in 2011 and 2015 opened order and pick-up store in Phuket. Uniqlo opened their first store at Central World, Bangkok in 2011 and now have 32 stores in Thailand.
Modern trade via shopping mall, departments stores and supermarket is the channels to reach end consumers. Modern Trade accounts 40% of the wholesales and retail industry and Traditional Trade is 60% (2011). To do so distributor is one of the alternatives to penetrate Thai retail market. There are many distribution companies who provide import, logistics and marketing services for example BJC- Berli Jucker Public Co., Ltd., DKSH – Diethelm Keller Siber Hegner and Unilever (Thailand). Levi's, Billabong, Cocoa Dutch, Toni&Guy, etc. are sold in Thailand via distributing companies.
Key stakeholders
Central Group is the biggest player in retail industry. Central Group has eight major subsidiaries. Central Group covers in all product categories and market segmentations. Central Group operates following retail stores:
Centralplaza: 26 shopping centers under the name Central World, Central Plaza and Central Festival.
Central/Robinson: Robinson Department Store, Central Department Store and Zen are premium department stores.
Tops: Tops is a premium supermarkets in a different target such as Tops Market, Tops Superstore, Tops Daily, Tops Superkoom and Tops Shop Online.
Watsons: Central Watson is a retail store which including pharmacy.
Baan & beyond: Baan and Beyond, Homework and Thai Watsadu are the construction and home decoration retail stores.
Powerbuy: Powerbuy is a home electronic appliance retail.
SuperSport: SuperSport is a sportswear store.
OfficeMate: OfficeMate and B2S are book store, stationery and office material.
BigC: Big C, 697 stores in Thailand (2015), is the second largest hypermarket in Thailand after Tesco Lotus. Big C has customer segmentation and has following store formats to target different types of customer; Big C Supercenter, Big C Extra, Big C Jumbo, Big C Market, Mini Big C, Pure by Big C.
Family Mart: Central Group operates Family Mart (Japanese franchise convenient stores) which has more than 800 stores.
CP Group or Charoen Pokphand Group is Thailand's largest private company and is one of world's largest conglomerates. CP is operated through 200 subsidiaries in 18 countries.
7eleven: CP group operates 7-Eleven. There are 8,469 stores (2015). In 2014, there are an average of 9.7 million customers visit 7-Eleven stores each day.
Makro: Makro or Cash and Carries was originated the Netherlands chain store. Siam Makro Public was established1988. There were 64 Makro stores (2013). In 2013, CP has bought Makro.
Ek-Chai Distribution System Co., Ltd. is an import and distribute automotive parts company. 
Tesco Lotus: Lotus (Tesco Lotus) started by CP Group in 1994 but has been bought by Tesco, British supermarket chain in 1998 and now operated by Ek-Chai Distribution System Co., Ltd. Tesco Lotus has 1,400 stores and has following store formats to target different types of customer; Lotus Extra, Lotus Hypermarket, Lotus Department Store, Lotus Talad, and Lotus Express.
The Mall Group is one of the mall operators. The Mall Group started 1981.
The Mall: The Mall has 6 branches in Bangkok and 1 in Korat.
The Emporium, The EmQuartier, Paragon Department Store: The Mall Group is also operate the high end department store chain. The Emporium, The EmQuartier, Paragon Department Store, and the upcoming The EmSphere, Blu Port, Blu Pearl, and Bangkok Mall (Bangna).
Home Pro or Home Product Center PCL is a retailer of building materials and home improvement products.
Home Pro: Home Pro started in 1995 from the Joint Venture of Land and House PLC and Quality House PLC, the two big real estate companies. There are 77 stores in Thailand.
E-Commerce
E-commerce in Thailand was increasing 3.65% in 2014- 2015 and 22.52% increase in B2C. In 2014, e-commerce in Thailand valued 2,033 billion THB and 2015 valued 2,245 billion THB increasing 190% from 2013.
Access to the internet and smartphone link buyers and sellers. Report from Yozza says 69% of smartphone users doing products research online but purchase offline. Social media, facebook, line, instagram increasing chance to exposure products and leads to buying.
Internet penetration in Thailand is increasing. There are 39,466,260 internet users in Thailand (2015). Home internet is developed and many area has access to fiber broadband internet. Broadband penetration is 9.52% per population. Mobile subscription in 2014 is 83,053,966 or 123.52% of population.
E-Commerce Retail products sales 2014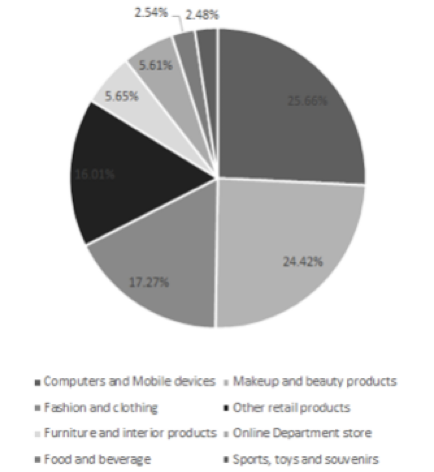 E-Commerce Services sales 2014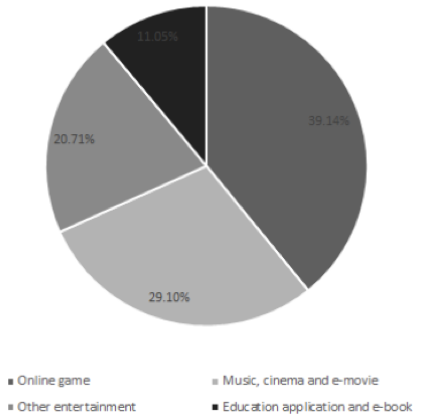 Moreover, 4G is available which make it easy to access to internet from mobile phone.
Computer and Mobile devices, Makeup and beauty products, Fashion and clothing is top three product groups in e-commerce market and online games is the top service in e-commerce market.
Key stakeholders 
There are 502,676 e-commerce entrepreneur registred in Thailand which include B2B, B2C and B2G. Main players in e-commerce market are Lazada, Chillindo (an auction online store), Tarad and We Love Shopping.
Lazada is the biggest e-commerce in Thailand (30,567,000 pageview in March 1, 2016) . In 2015, the sales transaction was 10 billion baht, C2C is accounted 85% of the transaction and 15% is B2C. Lazada operates in Thailand by subsidiary Lazada IHQ and has been granted tax incentives from BOI. In April 2016, Alibaba has announced that they bought Lazada, which will help expanding e-commerce to 560 million consumers in Southeast Asia. Wide range products and good payment system from Alibaba combine with a good logistics and customers on hand from Lazada will make the online retail industry in Thailand more reliable.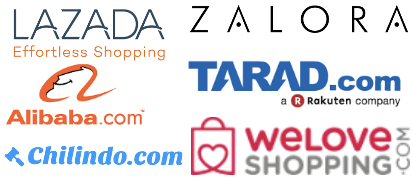 Moreover, in December 2016, Thai government and Alibaba Group signed an agreement to help Thai SMEs succeed in E-commerce including training, shipping and logistics development. Thailand Post will take Alibaba's inventory management and international e-commerce fulfilment services. Alibaba Group aim to train talent 10,000 individuals in People and Talent Development Program so they can be proficient in digital technology. 
E-Commerce companies localisation
According to Electronic Transactions Development Agency (ETDA), more than 65% of e-commerce customers are in Bangkok and the neighbour cities due to the good infrastructure, internet connection, payment method and better logistics.
E-Commerce payment methods
One of the common payment method in Thailand is Cash on delivery (COD). This method increase security for customer by receiving product before make a payment. There are many alternative payment method such as pay via counter service (7-eleven, Tesco Lotus, BigC, etc.) or online payment such as Credit card, Paypal, iBanking and mBanking. E-banking (iBanking, mBanking and ATM) is the most popular online payment with 54.25% of payments. The online payment is increasing as the Government's Digital Economy policies given that transactions are secure, convenient, and reduce the cost of doing business.
E-Commerce delivery methods
Alternative delivery services are post service, courier companies (DHL, FedEx), third-party companies, own transport company and counter service.
E-Commerce sites page visits 2015 (jan)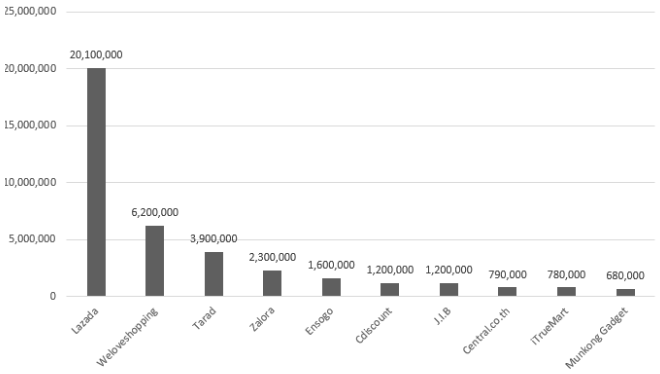 Opportunities in the retail & E-Commerce industry
Premium and International brands primarily. Thailand is a medium upper income country since 2011. Lifestyle changes and everyone aware of premium/international brands and products. Thailand is a big consumer market with a population of 68 million people, 20th in the World and 11th in Asia. ASEAN trade agreement also open the doors to more than 580 million people.
Government support – BOI investment promotion allow 100% foreign shareholding when invest in a new project to operate an E-commerce business.
Increasing trend of buying product online in other business sectors. 
Logistics and distribution: There are still limited distribution companies in Thailand. Thai Post covering a whole country, however, the service is still slow and under customer satisfactions. Other players are quite small players, who only deliver to main cities then need to change the distribution company to deliver to the end destination.
E-payment Software: Thailand is on it way to become cashless. One of the key player is 2C2P who claim that they has only 50% of the market share in payment gateway sector.
Industry challenges
Trust between buyers and sellers – according to our study above, people looking for information of goods online but they still prefer to buy offline. Thai still not trust e-commerce in quality of products, payment service and delivery.
Rising Stars in Southeast Asia – Business Opportunity Analysis