The aim of AEC (ASEAN Economic Community) blueprint 2015 is to achieve economic integration across ASEAN to establish ASEAN as both a single market and a production base with free movement of goods, services, investment, capital and labor, in order to take over the role of largest factory of the world after China.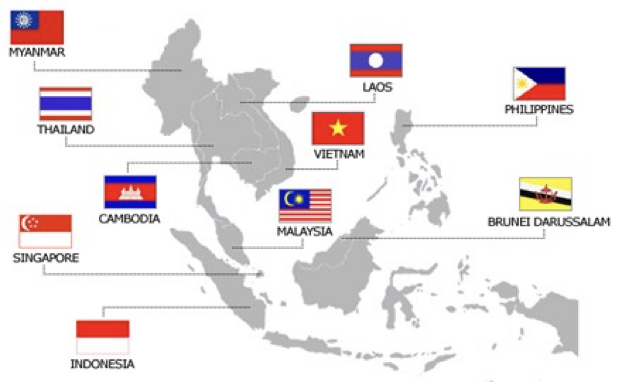 AEC Key Pillars
A single market and production base
A highly competitive economic region
A region of equitable economic development
A region fully integrated into the global economy
single market
AEC will establish ASEAN as a single market and production base by focusing on 12 sectors: agro-based products, air travel, automotive, e-ASEAN, electronics, fisheries, healthcare, logistics, rubber-based products, textiles and apparel, tourism, and wood-based products.
To create a community based on open market and industrial base, there are certain agreements as following:
Lower tariff schedule under ASEAN free trade zone through AFTA and CEPT. Under this measure ASEAN members will apply a tariff rate of 0 to 5% for imported goods originating within ASEAN, and the local ASEAN content must be at least 40% of FOB value of goods.
Removing non-tariff barriers within ASEAN, so only one set of standardized documents for certification and testing are needed by 2025.
Invest in new infrastructure project. The flagship investment is the TransAsia bus from Kunming to Singapore.
ASEAN is among the top 3 non-EU trade partners and EU is the most important foreign investor in ASEAN and 3rd largest trading partner. The inauguration of ASEAN economic community will make it more convenient to use neighbouring markets and cheaper labor force of least developed countries.
Two accomplishments of ASEAN economic community are the abolition of most tariffs and gain higher level of mutual investments. However, it is still lacking standardised regulations and common agreements on services and free movement of workers. By having greater cooperation with ASEAN, European companies could increase export, investment and job opportunities. ASEAN and EU should cooperate to combat terrorism and solve global challenges to strengthen the interest of European companies.
"We predict that the first five years will be chaos," said Constant Ponggawa, managing partner and founding member of the Hanafiah Ponggawa & Partners (HPRP) law firm of the upcoming ASEAN Economic Community (AEC)."But we believe it will then find its equilibrium and finally be effective." source: Globe Asia
Overall, the AEC is well behind schedule and individual countries are in various different positions, some heading in opposite directions in terms of achieving an AEC. Progress has been slow, a not unexpected outcome for what is a challenging exercise.
Besides AEC, other free trade agreements are creating impacts to Asean economies. The two significant FTAs to mention are the Trans-Pacific Partnership (TPP) and EU-Vietnam Free Trade Agreement.
The Trans-Pacific Partnership
"The Trans-Pacific Partnership was the biggest trade agreement in history" according to Bloomberg. The deal was then abandon by the US the 23rd of January 2017, during his first Monday in office. This will have more or less impact on the other 11 TPP members: Japan, Vietnam, Brunei, Malaysia, Singapore, Australia, New Zealand, Canada, Mexico, Peru and Chile. The nations jointly still are a large and important part of the global economy. It opens up for opportunities to strengthen their internal relations and rather look at China and the EU. There are other countries that interested to be part of TPP namely Taiwan, Philippines, Columbia, Thailand, Laos, Cambodia, Bangladesh and India.
"Jusuf Kalla stated that Indonesia which had shown interest to join TPP last year was decided that it would not follow up the plan to join TPP after President Donald Trump announced that the US would withdraw from its negotiations." said Dewi Fortuna Anwar, the Vice Presidents Deputy Secretary for Government Policy Support.

Before Indonesia's Vice President, Jusuf Kalla, announced the cancellation, the Trade Ministry of Indonesia has predicted that there could be high probability of TPP cancellation. However, the cancellation itself viewed has limited impact on Indonesia's economy. As mentioned by Tjahya Widayanti, Head of Trade Policy Research and Development at the Trade Ministry on 16th November 2016 "The cancellation of the agreement would make Indonesia remains competitive among other Asian countries, such as Vietnam in the fishery commodities and Malaysia in oil palm commodities." source: Tempo, Antara News
The goal of TPP itself are to promote economic growth; support the creation and retention of jobs; enhance innovation, productivity and competitiveness; raise living standards; reduce poverty in our countries; promote transparency, good governance and enhanced labor and environmental protection among its member countries. One of the most important key features is to eliminate or reduce tariff and non-tariff barriers among member countries.
The benefits for EU companies would be for those who has the market and at the same time sourcing within TPP member countries. Vietnam is one of the countries who will be enjoying the benefit of joining TPP. Apparel manufacturers will benefit from reducing import duties in the US and Japan markets. Fishing industry will benefit from elimination of import tax on shrimp, squid and tuna.
Another industry in Vietnam which will affect from TTP is pharmaceutical industry. There will be tougher competition between Vietnamese domestic companies and foreign companies due to the eliminating import tax. Moreover, TPP will increase patent protection, restricting Vietnam companies access to new products as well as their ability to produce new drugs.
EU-Vietnam Free Trade Agreement (EVFTA)
EVFTA is a comprehensive – high-quality –balanced for both Viet Nam and the EU, in line with WTO's rules and regulations. The FTA negotiators reached a comprehensive deal after the 14th round of negotiations during 13 – 17 July 2015. The formal conclusion of the negotiations took place in December, 2015, after all legal texts and schedules of concessions have been finalized.
According to this, 99% of tariffs both in value terms and number of tariff lines will be eliminated and the longest periods for tariff elimination will be 7 years for the EU and 10 years for Vietnam.
Vietnam's commitment includes liberalising almost 100% of import duties, opening up government procurement to EU companies, dismantling non-tariff barriers, eliminating vast majority of export duties and building a good regulatory package, including disciplines for State Owned Enterprises (SOEs).
Yasmin Aladad Khan, regional director of Southeast Asia and South Asia for DHL Express, views the region's lowest-cost countries as being the most progressive in implementing agreements liberalising trade and investment, although facing capacity constraints in other areas.

"Countries such as Cambodia, Laos and Vietnam ultimately believe that a high level of foreign investment will help boost their economic growth and competitiveness, so they are more willing to liberalise trade and investment regimes," she said.
In term of goods trade, Vietnam will liberalize 99% of import duties on EU exports over a period of 10 years. Besides, 65% of EU's export lines will be free from duty already at entry into force of FTA, including:
Machinery & appliances (vast majority)
50% of pharmaceuticals
Textile fabrics
70% of chemicals
Some seafood products
Whereas, automobiles and motorbikes will be eliminated import duties after 9 or 10 years (7 years for motorcycles with engines larger than 150 cc). Also, wines and spirits, beer, frozen pork, chicken to be liberalised within 10 years. While Viet Nam undertakes commitments to remove export duties for a larger number of products, it reserves the rights to apply export duties on, among others, crude oil and coal.
EU commits to eliminate import duties for 85.6% of the tariff lines, representing 70.3% of total export revenues from Viet Nam upon entry into force. After 7 years, EU will remove import duties for 99.2% of the tariff lines, or 99.7% of total export revenues of Viet Nam. The remaining 0.3% of export revenues, EU will partially liberalised through Tariff Rate Quotas (TRQs). In conclusion, nearly 100% of the exports of Viet Nam will be liberalised after 10 years. This represents the highest commitment of an FTA Partner for Viet Nam so far.
In details, Vietnam's key commodities' tariff elimination scheme as following:
Apparel and textile, footwear, seafood (except for surimi and canned tuna): EU to remove import duties over a 7-year period
Rice: significant TRQs for milled rice, husked rice and fragrant rice. Imported rice under TRQ will be liberalised. For rice products, EU will remove import duties over a 7-year period.
Vegetables and fruits, processed vegetables and fruits, fruit juice, plastic products, ceramics, glassware: basically will enjoy full market access upon entry into force of EVFTA.
Some sensitive agricultural products will not be fully liberalized, EU instead offers market access through TRQs : rice, sweet corn, garlic, mushrooms, sugar and some sugar products, manioc starch, surimi and canned tuna.
Rising Stars in Southeast Asia – Business Opportunity Analysis