Vietnam is home to more than 2000 furniture manufacturers, where around 15% focus on export. Exports of furniture are increasing from Vietnam with a CAGR of 18.5% during 2010-2015, ranked 6th in the world and 2nd in Asia, after China. In 2015, export value of wooden furniture products was $4.8 BUSD.
In 2015, Vietnam contributed 8.4% of furniture imported to EU, value 0.6 billion EUR.
Export Value BUSD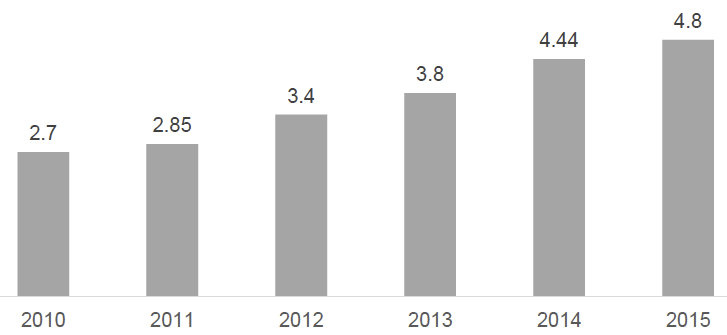 Countries Export to EU BUSD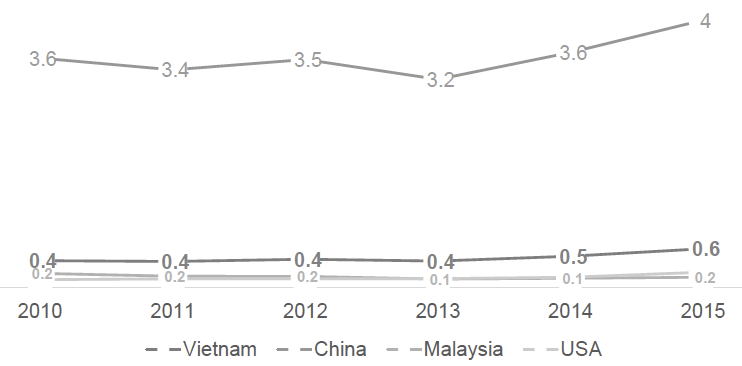 Source: http://madb.europa.eu/madb/statistical_form.htm
Vietnam exported furniture to more than 120 countries, where key customers are from the US, China, EU and Japan. EU is one of the four biggest markets for Vietnam with 14% market share. In EU, England, Germany and France is the most important importers, accounting for 2/3 total export value to EU.
Key Furniture Exports Markets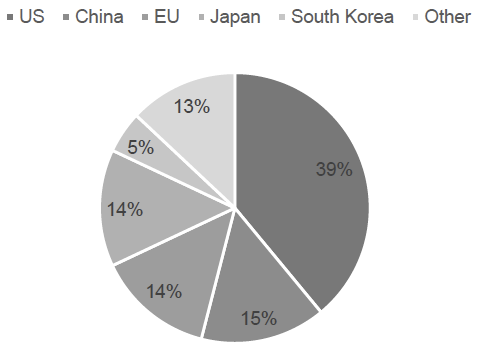 Source: Vietnam General Statistic Office
Key products are indoor furniture, such as bedroom furniture (25,9%); dining room & kitchen furniture (24,3%) and chairs (14,8%). Outdoor furniture for the EU market has experienced sharp decline in orders due to consumer's now prefer low to mid-priced as opposed to high end products. Therefore, Vietnam furniture factories switching their focus from outdoor furniture to indoor furniture.
Key Export Products to EU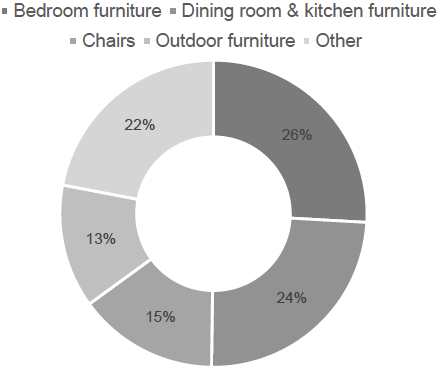 Source: report on furniture, Eurocham
Example of brands sourcing in Vietnam & Sourcing location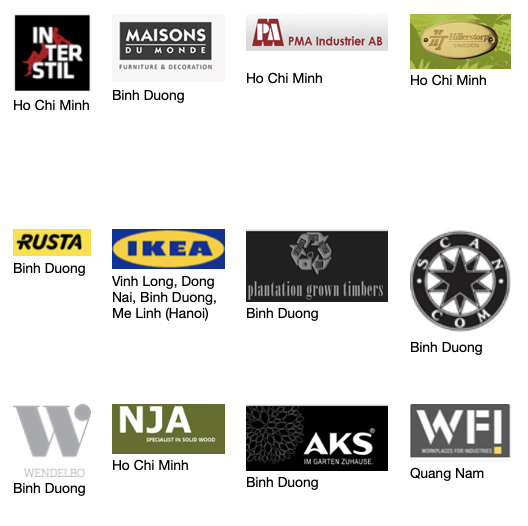 Key manufacturers
In 2015, Vietnam had more than 3,500 wood processing enterprises. 80% are located in industrial zones on the Central Coast, around the key city Danang and Ho Chi Minh City and nearby provinces such as Binh Duong, Dong Nai and Long An. This is a result of the abundant low-cost but more skilled labor thanks to many years of experience in exporting furniture. The Central Coast of Vietnam, includes Binh Dinh, Da Nang and Quy Nhon are home to hundreds of outdoor furniture makers. This is a position near Tay Nguyen, the largest natural forest area, that supply raw material for this industry. Meanwhile, manufacturers in the Southern area are focusing on indoor furniture. Ho Chi Minh City has some large-scale factories, which employ thousands of workers in modern production lines, and it is home to about 70% of the 60 largest furniture producers.
The remaining 20% of firms located in the North and focus on Hanoi, together with its neighbours like Ha Tay, Bac Ninh, Nam Dinh, Ninh Binh and Thanh Hoa Province. The Northern clusters are the manufacturing centers for home accents and traditional Vietnamese solid wood furniture with exports primarily to Asian countries. The North accounts for only 10% of the overall production revenue.
Key strength
Furniture are produced in Vietnam as a result of skilled labour force with an ability to produce high end furnitures to competitive prices. The lower job-hopping rate than China enable the manufacturers to retain and develop the workforce. Another advantage is that Vietnam has access to legal sustainable wood. The two woods that are legal in Vietnam are rubber wood and cajuput wood. Consistent qualities and flexibility in terms of order quantities, willing to make relatively small production runs are additional competitive factors.
At this moment, the Vietnamese government's policy is focused on developing the furniture industry. At the same time, Chinese Government changes the focus on the development of high-technology industries. This is at the expense of labor intensive industries such as furniture manufacturing. This makes Vietnam a good alternative manufacturing hub.
Challenges
Due to the limited source of wood material supply in the country, as well as the growing demand, 80% of the wood materials for export is imported. In addition to traditional sources of supply such as Laos, Cambodia, Malaysia, Indonesia and Myanmar, Vietnam has started to import from other countries such as New Zealand, Australia, South Africa, Solomon Islands, Sweden, USA and Canada.
When the market is expanding it will be more complicated to source wood raw material in Ho Chi Minh City, Dong Nai, Gia Lai, Dak Lak, Binh Dinh. According to the Ministry of Industry and Trade, the source of wood raw material for export is a serious challenge. 90% of wood the wood is imported from Laos and Cambodia and these sources are being exhausted. From 2005 to now, Malaysia and Indonesia have also closed timber goods export. Additionally, timber prices have increased around 5% – 7%, particularly hardwoods raised from 30% to 40%, making it challenging for a number of companies to be profitable.
Wood origin certificates is also another challenges for Vietnam. Forestry legislation and forest management (FLEGT) is being implemented in all countries. EU also launched "The voluntary partnership agreement" (VTA), which raise the demand for wood certification. While the EU clients increasingly demand certification on products made from wood by an organisation such as the Council of Forest Management (FSC). Vietnam does not have an appropriate certificate system. Therefore, in order to meet the FSC certification requirements, manufacturers must import FSC certified wood with high price, which affect the competitiveness of finished products in term of price.
Rising Stars in Southeast Asia – Business Opportunity Analysis