Vietnam is one of the six largest garment exporters to Europe. While China is decreasing its export, Vietnam is rising by 11.46% of market share in 2015, from 10.73% in 2014.
Export turnover in 2016 was estimated at USD$ 23.5 billion, increase 3.3% compared to 2015. In 2015, Vietnam exports to EU value $3.36 Billion USD, increased 8% compared to 2014 and comprised 3.5% EU's market share.
CAGR of Vietnam export to EU during 2010-2015 was 12%. This was smaller than the total CAGR on export of 19% and to the US 13% and to Japan 20%. This number shows that there still is a big potential for EU.
Vietnam Garment Export BUSD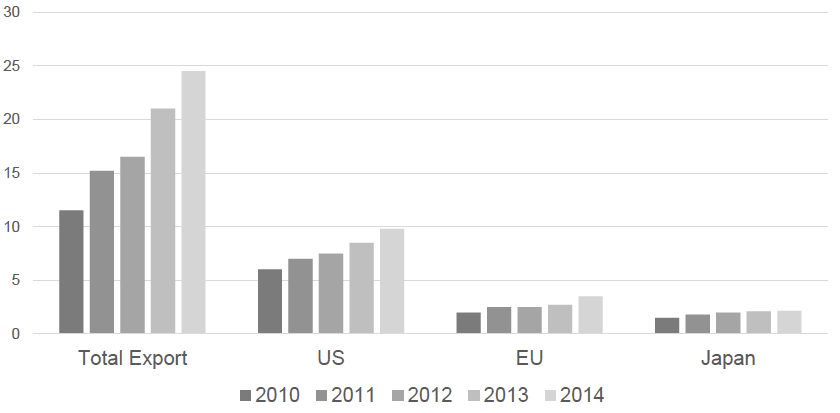 Fashion is the second largest and also the second fastest growth export sector in Vietnam. CAGR was 19% during 2009-2015. In 2015, 64% of the exports were garment, 33 % footwear and the rest textiles.
"Vietnam is always in the top five countries in term of garment export. In 2016, its key export markets continue to have positive signs. The forecast export will be able to reach 30 billion USD, an increase of 8% compared with 2015 in term of revenue and 10% in term of profit before tax." said Mr Hoang Ve Dung, the Deputy General Director of Vietnam Textile and Garment Group (Vinatex)
Total volume for garment is 4 billion products. Key garment exports are jacket (21%), T shirts (20%), pants and jeans (16%) and shirts (6%). Sport shoes (sneakers) represent 70% of the shoes exports in 2015.
According to our interview, garment enterprises have a very good business. Furthermore, they forecast a bright business outlook for the next 2-4 years with more investment plans as well as headcount development with the expecting growth of more than 10%.
Jeans and jumpers/sweaters are the two products with high growth rate in recent years. Jeans' export has the growth rate of 10% in 2015. In 2014, knitted wear, jumpers, sweaters and trouser witnessed a strong growth of 22%, 18% and 21% respectively. In 2015, although these categories still grow at high rate, the growth percentages has been slightly declining to 14%, 12% and -3% corresponding. On the other hand, jeans witnessed an impressive growth rate of 10%. The reason is that China, the world's largest jeans manufacturer, launched a new policy that restricted the production of jeans. This made investors have been eyeing Vietnam as an alternative source. It is an opportunity for Vietnam to become a manufacturing hub for jeans and woven products.
Vietnam Garment Export Structure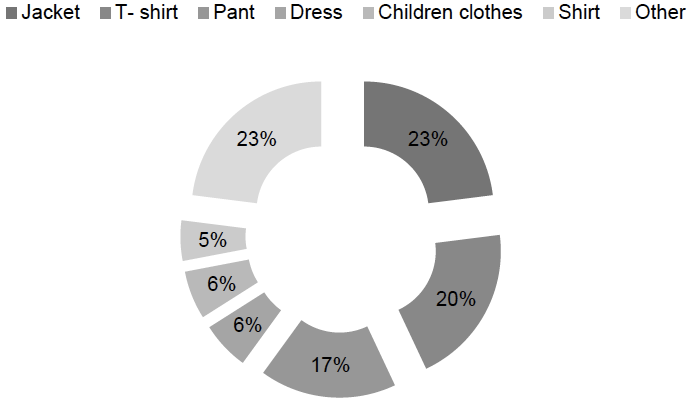 Key manufacturers
Vietnam has about 6,000 textile companies, with the labor force accounts for 5% of the total national workforce. Most companies are located in the South (62%), the rest mostly in the North. Besides, FDI contributed increasing export value in recent years. In 2014, the proportion of FDI enterprises is more than 60% of total exports.
Vietnam National Textile and Garment Group (Vinatex) is the biggest player with 15.7% of the export market share. Top 5 Vietnamese OEM manufacturers in Vietnam includes: Viet Tien Garment Corporation, Phong Phu Corporation, Nha Be Garment, Hoa Tho Garment, Garco 10.
Example of brands sourcing in Vietnam & Sourcing location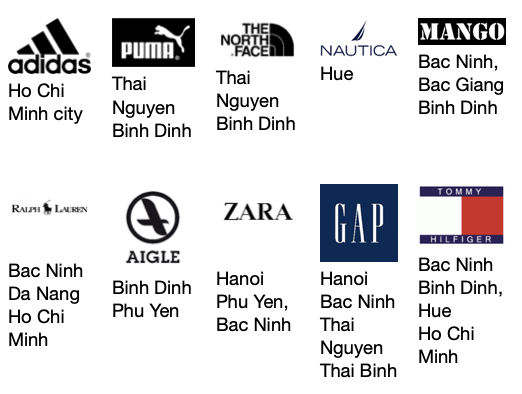 Key strength
The key competitiveness of sourcing fashion in Vietnam is not only cheap price but also stable quality. People often assume that Vietnam provides abundant human resources with low labour cost. In fact, when compare the cost of labour from Vietnam and China, Vietnam is not cheaper. However, while the quality level of Chinese order over time is differentiated and often poorer, Vietnam's order quality keeps the same thanks to the employee retention rate of skilled labour. It is the stable quality and reasonable cost that is the key reason why fashion brands move from China to Vietnam.
Other positive factors are:
Ability to produced high end products
Small minimum order quantity
Able to ensure short lead time
Political stability
CSR and legislations
"Vinatex has invested in a number of big projects in fiber, textile and dyeing to increase the percentage of local content to 65% by 2020. Also, in 2015, Vinatex has invested in training and educating the high skilled human resources." said Mr Tran Viet, Head of market development department of Vietnam Textile and Garment Group (Vinatex)
Challenges
Vietnam's textile and garment industry heavily depends on imported raw material due to lack of domestic supply. Most material comes from China, Korea and Japan. In order for Vietnam to enjoy favourable tax from free trade agreements, it needs to meet requirement of origin, with 65% domestic value added. At this moment, there is a wave of investment from foreign companies investing in textile and dyeing to enjoy favourable policies. Vietnam realises these constraints and is working to overcome them by encouraging investment in raw materials for apparel.
At the time of writing, foreign companies are vamping up investment in building textile manufacturing and processing factories to enjoy favourable policies offered by Vietnamese policies. In the past 5 years, there have been nearly 500 FDI projects invested in the textile industry, with a total registered capital of more than USD2 billion. Some examples of such projects are Hyosung project of South Korea with an investment of USD660 million in Dong Nai, project Luthai Textile of Hong Kong in Tay Ninh with USD170 million, Taiwan's Polysester synthetic fibre production projection by Far Eastern. Even local conglomerates such as Vinatex, the leading textile company in Vietnam, has also been developing raw materials for spinning mills in the central areas, investing USD240 million in dyeing and weaving fabric for high end products.
Regulations
At this moment, Vietnam is trying hard to raise the local value. Shoes and garment exports are forecasted to have a strong increase in the next 5 years, about 16% thanks to breaking FTA signed in 2015, especially the EVFTA, which will eliminate tax for Vietnam's fashion export to 0% from year 7th since EVFTA took effect. On the other side, EU's export on textile and fabric will be duty free from day 1 under this agreement.
However, EVFTA have a regulation on only products "sufficiently manufactured" in Vietnam are eligible to apply the favourable tax under the term of The Regional Value Content (RVC). The RVC value of garment and textile is 65%. Currently, this value of Vietnam is 51.1% (2015). In addition, Vietnam will benefit from accumulation with Korea in relation to fabrics used for producing garments, and soon with Japan as well. In order to meet the requirements of local content, Vietnam is developing the supporting sectors for garment and textile. Vinatex is the leading organisation to develop raw materials for spinning mills in central Vietnam. They invest $240 million USD in dying and weaving fabric for high end product in addition to encouraging foreign enterprises to invest in the field of spinning, weaving and dyeing.
Trends
Manufacturing hubs are moving from big cities to neighbouring provinces, from the north and the south to the central area to enjoy lower labour cost. There are around 4500 companies working with this sector. Garment firms play an important role, accounting for over 65% of total enterprises. About 30% are within shoes and 5% within textile.
Fashion factories used to be located around the north and the south. 60% of the production is concentrated in the South (Ho Chi Minh City, Long An and Binh Duong), 25% in the North (Hanoi, Bac Ninh, Hung Yen, Hai Phong and Nam Dinh) and 15% in the Central (Hue, Phu Yen and Binh Dinh) during 2010-2014. Most of these companies located in the South thanks to abundant low-cost and more skilled labor thanks to many years of experience in international business.
However, there is a trend that production is moving to the central to enjoy cheaper labor cost and more advantageous policies. Also, the government wants to relocate apparel factories to neighbouring localities to cope with the labor shortage here, and the city to serve as a fashion design hub. After 2020, apparel factories will be located in industrial zones and other provinces with sufficient labor supply. Meanwhile, garment companies in the city should be solely responsible for design and export-import operations.
Rising Stars in Southeast Asia – Business Opportunity Analysis