The Vietnamese healthcare market will double 2014 – 2018.
Pharmaceutical
Vietnamese pharmaceutical industry witnesses a significant growth within 5 recent years with the average annual growth rate during 2010-2015 is 16.5%. The revenue in 2015 is $4.5 billion USD. Forecasted growth in the next 3 years stands at 16% and the revenue is estimated to increase to USD$7.2 billion by 2020. The main reason for this increase is the rising awareness of Vietnamese healthcare, the national health insurance coverage, the increase in disposable income and the risk of contaminated food. Money spent on pharmaceutical products per capita in Vietnam has doubled to around US$40 over the past 5 years.
Pharmaceutical revenue BUSD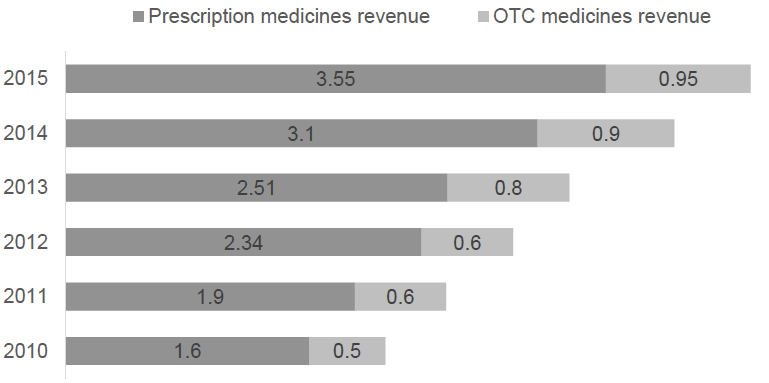 Source: Drug Administration of Vietnam
However, imported drugs still play an important part, taking up to 60% of total domestic demand. This is a result of Vietnamese consumers' confidence in imported product is larger than the local products. In 2015, import of drugs is $2,035 MUSD.
There are 478 enterprises with the majority of 100-250 employees. According to our interview with companies, most of them observe a very good business situation currently. The business outlook is good despite stricter government regulations relating to import and quality. A large number of the companies expect the growth rate around 20% in the next 3 years.
Key players
Vietnam import pharmaceuticals mainly from France, India and Korea. The advantage of the French market is that medicine quality is reliable and seldom counterfeited. Although the price of medicines imported from France is higher than that of domestic products, French medicines are still more competitive compared to other markets. The Indian market and pharmaceuticals are competitive thanks to cheap labor and plentiful raw material sources.
Key manufacturers
Some biggest producers are:
Sanofi with the market share of 5.8%
Hau Giang Pharma: 5% market share
Traphaco: 1.2% market share
Other key producers are as following:
Imexpharm
Vimedimex
Domesco
SPM Corp.
Becamex
Mekophar
Imexpharm
OPC
Thai Duong Star
Opportunity
Vietnam is expected to enter the top 20 fastest and most stably growing countries in the pharmaceutical sector in the next five years with double-digit annual growth through 2025, according to the Business Monitor International (BMI).
Vietnam had 7,630 effective foreign medicine registrations as of March 14, 2016. Most of medicine and medicinal materials producers are foreign-invested firms. Total domestic pharmaceutical output only accounts for 45 per cent of total demand, leading to a constant supply shortage for both hospitals and OTC market. Currently, the World Health Organization (WHO) has verified only 150 Vietnamese pharmaceutical factories as having Good manufacturing practice (GMP) quality.
In term of consumer market, according to our interviews with market experts, key prescription medicines needed for Vietnam market at this moment are for diseases related to:
Digestion, especially for children in form of syrup
Pregnant women and babies, especially antibiotic in form of syrup
Dermatology
Oncology
Cardiovascular and hypertension, and
Respiratory
Meanwhile, local enterprises depend on imported material inputs (90%). Imported material mostly come from China and India, value $355.3 MUSD in 2015.
Moreover, there is a trend that local firms produce drugs under license with foreign pharmaceutical partners. Domestic companies are upgrading the production standards to GMP-ASEAN, GMP-WHO and PIC/S, EU-GMP and so on to adapt to the requirements of global market.
According to EuroCham, Vietnam has the potential to become an ASEAN hub for innovative pharmaceuticals production, however it requires a dedicated and holistic approach and must be driven by Government. Key enablers to encourage investment in innovative pharmaceuticals include the right to establish a Foreign Invested Enterprise and improved IP protection.
As a producing hub, potential export markets for Vietnam pharmaceutical manufacturers are Southeast Asia, Africa, and the Middle East. By 2013, Vietnamese companies has exported to countries including Myanmar, Lao, Cambodia, India, Hongkong, Philippines, Malaysia, and more than 20 countries in Africa. African countries need can only be met through imported drugs, according WHO. Primary products needed including medicines for malaria and diarrhea and vaccines are those products that Vietnamese companies can produce.
According to WHO and UNCTAD, there are 4 levels of development of a pharmaceutical industry, as follows:
Level 1: Absolutely dependent on imported drugs.
Level 2: Be able to produce some generic drugs; however the majority is imported
Level 3: Establish domestic pharmaceutical industry; be able to produce generic drugs and export some pharmaceuticals.
Level 4: Be able to produce from raw materials to final product and research for new drug.
According to this scale, then Vietnam's pharmaceutical industry is nearly at level 3.
The local pharmaceutical industry produces mainly medicines and medicine-related substances. The major products in the industry are:
Medicines
Functional foods
Antibiotics and vaccines
The primary activities of the industry are
Medicines preparation
Common medicines manufacturing
Special medicines manufacturing
Challenges
Counterfeit medicines is a problem on the consumer market due to weak monitoring in Vietnam. This directly affects patients and the image of pharmaceutical companies whose medicines are counterfeited. The Drug Administration of Vietnam said that the percentage of substandard medicines was 3.09% in 2014, which increased by 0.2% compared with 2013. The percentage of counterfeited medicines was 0.1%. Especially, the trading of counterfeit medicines primarily focused in the border areas of Laos, Cambodia and China.
When it comes to sourcing, export price of Vietnamese pharmaceuticals is 20-30% higher in India and China. The Vietnamese pharmaceutical export still faces the barriers of prices and export policies. Firstly, according to Price Management Department, the annual average export price of Vietnam is 20%-25% higher than other countries in the region such as India and China. If the domestic prices are reduced equal to the prices of those countries, domestic companies will no longer make profit to stay in business. The high price is caused by the fact that Vietnam pharmaceutical industry has to import materials. The product registration process still faces many difficulties and is time consuming. In order to bring products to new markets, companies must send registration form, application form and product sample for testing. This process takes up to 2 years.
Medical Device
In line with the expansion of the healthcare sector, Vietnam's medical devices market has observed a stable growth since 2014. Medical device segment represented $1 BUSD in 2015, and is forecasted to be $1.2 BUSD and $1.8 billion USD in 2016 and 2018 respectively.
Medical Equipment Market Value BUSD 2014-2018e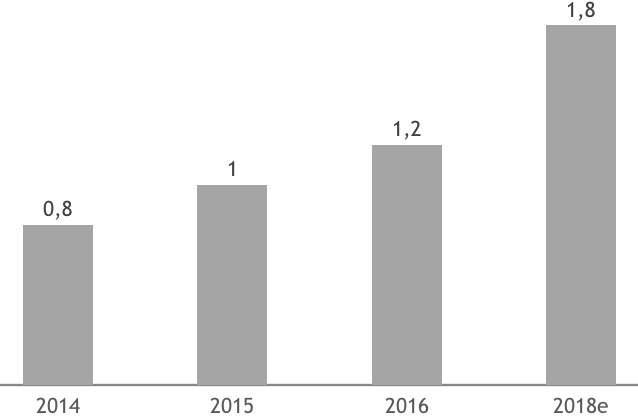 Source: BMI
In fact, the steady influx of investments and more liberal Government policies have triggered shifts and progress of the entire healthcare system. Other drivers for the healthcare market are strong GDP growth, rising income and demand for better healthcare services. Hence, Vietnam's medical equipment market, despite being relatively small in the global context, is considered one of the fastest growing in Asia with the average sales growth rate forecasted at 18-20% during 2016-2020.
The medical device segments are very import-driven. Approximately 95% of medical devices are imported, mainly from Japan, South Korea, USA and Germany. The sub-sector that the market is focusing on are the equipment of consumables, diagnostic imaging, patient aids and orthopaedics and prosthetics.
Medical Equipment Market Value BUSD 2014-2018e
Source: BMI
Investment in high-end equipment will primarily be in the major hospitals in Ho Chi Minh City, Hanoi, Hue, Da Nang and Can Tho. Ho Chi Minh City is estimated to invest about $ 900 MUSD in the next 3 years to upgrade medical equipment for hospitals.
Vietnam will spend on average 7% of its GDP on healthcare between 2015-2019. This is more than its peers: Malaysia (4.1%), Thailand (3.9%) and Indonesia (3.1%). The governmental universal health insurance scheme further fuels the growth. In 2014, 71% of the population were covered by health insurance. This number is expected to be 75% in 2015 and 80% in 2020.
Regulations on Medical Device Management
The newest regulation of this sector is the decree 36/2016/ND-CP on medical equipment management. It aims to rid hospitals of bad suppliers and to ensure consistent prices of medical equipment in the market, avoiding price hikes for the benefit of suppliers or hospitals. Statistics from the Vietnam Medical Equipment Association show that there are about 10,500 types of medical equipment in the market, 90 per cent of which is imported from countries like Japan and China, with some are substandard equipment. To avoid the use of these equipment, provincial health departments must publish the winning bids for the supply of medical equipment to public hospitals which uses state budget. Moreover, companies importing medical equipment must assume responsibility for its quality, preventing the smuggling of substandard equipment or medical equipment without clear origin. In addition, devices implanted into the human body must be tested in clinical trials on human beings before being used.
Besides the decree number 36, circular 30/2015/TT-BYT regulating medical device import procedure. According to this, the issuance of the import license for the medical device is 15 working days. However, in practice, it often takes about 2-3 months. The import license shall be valid for 1 year only.
Business Opportunities
In the public sector, the Ministry of Health has set a goal to considerably reduce the central hospitals' overload in Hanoi and Ho Chi Minh City. 1 BUSD will be spent during 2014 – 2016 for 5 additional modern facilities country-wide (4,500 beds). Of the above, the construction will be kicked off for 2 hospitals in Ho Chi Minh City this year.
Between 2016 – 2020, Hanoi will build 15 hospitals (5,000 beds) with a budget of $430 MUSD. Viet Duc and Bach Mai, two of the biggest public hospitals were newly constructed and the second facility near Hanoi started in 2014 and will be complete in the end of 2017.
The private hospitals represent only 12% of the healthcare system nationwide, but are projected to grow rapidly. Vinmec Hospital (part of Vingroup) is now building ten new facilities, some of them will be opened soon. French Hospital, the first with international standards, is upgrading and will be in operation in 2-3 years. 250-bed Trung Tin General Hospital construction plans to be completed within this year in Hanoi.
Additionally, a number of modern general hospitals and clinics are also opening more branches such as Hong Ngoc Hospital and Thu Cuc General Hospital. American International Hospital (AIH), the country's first American-standard hospital with 150 beds began construction on 8 April, 2016. Also, spa and clinics are booming together with the higher demand of aesthetic surgery.
Rising Stars in Southeast Asia – Business Opportunity Analysis