Vietnam is now seen as a top 5 of the leading countries in software outsourcing.
"According to World Bank's 2016 World Development Report, numerous foreign investment funds were eyeing Vietnam as a fertile land for the development of software and digital technology" said Mr. Truong Gia Binh, Chairman of FPT Corporation, a leading technology company in Vietnam
80% of the revenue is mainly driven by export services. Vietnam is currently the second largest offshore ITO service supplier for Japan. Besides Japan, the biggest export destination are USA and EU. Key export services in 2015 were embedded system/software, mobile application development, cloud computing and testing. During 2001-2014, this sector had 25% growth and is forecasted to increase 12% in 2016-2020. The revenue reached $1.5 BUSD in 2014, increased 12.7% since 2013.
Software sector revenue BUSD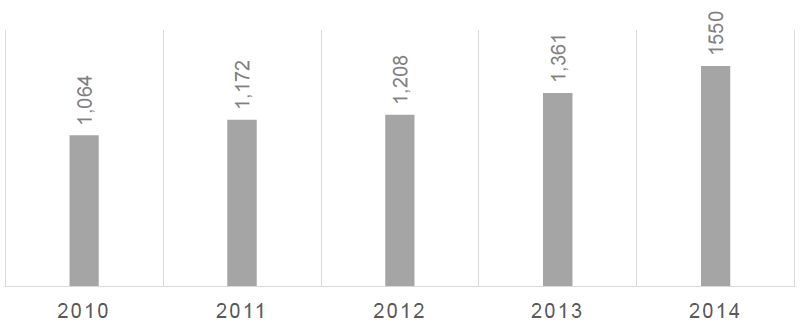 Source: White book of Ministry of Information and telecommunication, Vietnam
According to global sourcing ranking, Vietnam is listed in top 5 destinations for IT outsourcing, except India, including China, Russia, Poland, Argentina and Vietnam. The Vietnamese IT sourcing market is known as India + 1. Besides, Hochiminh City and Hanoi ranked 18th and 20th respectively among the top 100 most attractive global cities for software outsourcing, according to a 2015 report by Tholons, a leading strategic advisory firm for global outsourcing and research.
"While not the cheapest outsourcing destination, Vietnam is still very competitive when compared to other global locations, especially, as wage rises in India and China. This is what contributed to it surging up the rankings, to take first place in 2015" said Richard Middleton, Cushman & Wakefield's head of occupier services for Asia Pacific, Middle East and Africa about the advantage of sourcing in Vietnam.
Companies outsourcing in Vietnam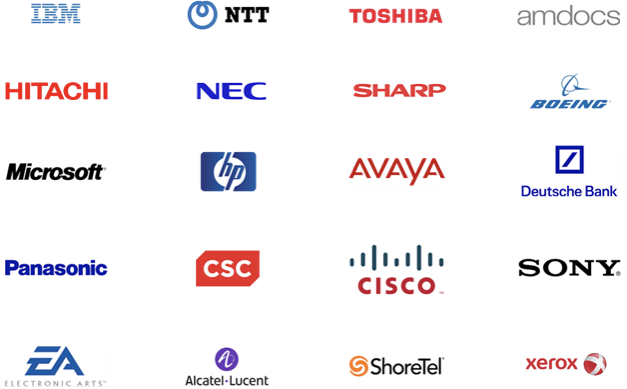 Factories: Intel, Samsung, LG, Renesas, Foxconn, Fujitsu, Canon, Panasonic.
Outsourcing software development: HP, CSC, Alcatel-Lucent, Cisco, Avaya, NTT, Toshiba, NEC, Panasonic, Sony, Sharp, Hitachi, Boeing, Deutsche Bank
Branches or collaboration: Bosch, Aricent, Sigma Designs, Texas Instruments & Simax Global Services
Key manufacturers
Software firms mostly locate in Hanoi (Cau Giay concentrated IT Park), Hochiminh City (Quang Trung software city-QTSC) and Danang (Da Nang Hi-tech park). QTSC is the largest IT center. QTSC is now home to 120 software companies, half of them are foreign companies with more than 7,700 engineers. In 2015, revenue of QSTC reached $224.2 million USD.
Cau Giay concentrated IT park comprises 15 software companies, including well-known firms as CMC, FPT, MISA, Hai Hoa and 30 IT- related companies. In Hanoi, software manufacturing hubs is moving Hoa Lac Hi-tech Park (currently FPT Software, Viettel are there). It is planned to be the largest IT center in Hanoi.
About 50 software companies (including 16 foreign companies) in Da Nang software park. Currently, most software companies in Vietnam are small-sized, with exception of three mid-sized enterprises with more than 500 programmers: FPT Software (10,000+ employees), TMA Solutions (1,800+ employees) and Harvey Nash Vietnam (1,600 employees). In 2015, Vietnam had more than 1000 software enterprises, employing around 80,000 staff in 3 parks.
Market strength
Vietnam is now a growing global tech hub with rising domestic demand. The IT business community chose Vietnam as a long term investment destination to place its plants, including Intel, Samsung, LG, Renesas, Foxcon, Fujitsu, Canon, Panasonic. There is a move of large companies shifting from China to Vietnam due to bigger market confidence, when the possibility of their products being counterfeited in Vietnam is lower than in China. Vietnam is considered an attractive destination for IT outsourcing service thanks to its young and highly trainable labour force, competitive cost structure and a stable business environment.
Vietnam has abundant technical manpower for software industry with over 40,000 graduates annually from over 290 universities in the country, Vietnam is in top 10 countries with most engineering graduates, according to research of World Economic Forum in 2015 on 128 countries (Forbes). Moreover, labour force in Vietnam is characterised by eagerness, hard-working, and quick adaptation to technological changes. The ability of adapting to work of Vietnamese engineers is also appreciated compared to competitor country. Worth to mention that lower ratio of job hopping (15%) than India (35%) is another strength. This will help to reduce human resources cost and maintain the stable quality.
Besides, Vietnam known for a reasonable low outsourcing cost market. Despite the increase in recent years but still lower than in Eastern Europe and India. In Vietnam, labour cost in this sector is 20% lower than China.
"The cost of hiring professionals in Vietnam is 90% and 30% less than hiring qualified IT experts in the US and India, respectively". According to Mr. Truong Gia Binh, Chairman of VINASA (The Vietnam Software and IT Services Association)
According to figures released by Adecco, average gross monthly salary in Vietnam was $569 USD and USD2,049 for Programmer and IT Manager positions, respectively in 2015, which was only around 25 – 35% of the same figure in China. Besides, Vietnam has low attrition and exceptional value for talent
"To boost the development of outsourcing sector in Vietnam, we need to improve IT-training both at universities and business enterprises. The government should introduce policies to promote the country as an outsourcing destination, attracting big names in ITO/BPO from English speaking markets and Japan to hire outsourcing companies in Vietnam." said chairman of TMA Solutions – top 5 leading Vietnam software outsourcing companies – Nguyen Huu Le.
Average annual salary for IT staff (USD)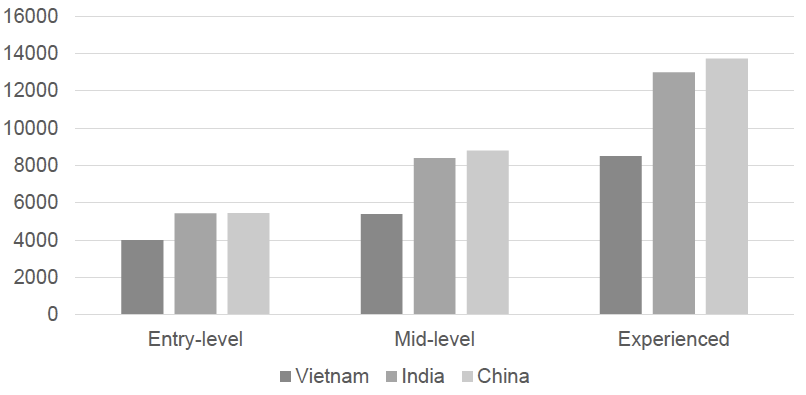 Entry-level: 0-1 year experience
Mid-Level: two to three years' experience
Experienced: five to eight years' experience (often project manager)
Sources: Adecco salary report 2015
Political stability and strong government support is another key competitive factor. Vietnam's government is strongly committed to growing its tech industry. Policies to promote the industry include special enterprise zones, tax breaks and grants for technical companies. They also include infrastructure investments like new software parks and improved ICT connectivity. In June 2000, Vietnam's Prime Minister Phan Van Khai signed a decree to build and develop the country's software industry. Since the signing of the decree, the government has provided a variety of financial incentive packages. The government has kept import duties on IT products low and has introduced a set of tax and other incentives for IT firms. Businesses involved in software production and services, both local and foreign-invested, are exempt from corporate income tax for four years from the date they generate taxable income. Software products will receive a zero VAT (value added tax) rate and be free from export tax. While some IT hubs have unpredictable government policies and occasional social upheaval, Vietnam offers consistency and reliability.
Opportunities in software outsourcing in Vietnam
Rising labour cost in other ITO hubs such as China or India may trigger more opportunities for Vietnam. Vietnam's further integration into the global economy (i.e. TPP, EVFTA) will further boost the country's infrastructure, and quality of labour force. TPP will enable Vietnamese software enterprises to expand to other markets, because China and India, which are Vietnam's rivals in the field, do not join the TPP trade pact.
Also, Vietnamese companies are expanding other markets globally (e.g. FPT Software) have helped to enhance the image of Vietnam ITO industry, together with government and professional associations continue supporting Vietnam ITO industry and enterprises.
There are still challenges to overcome
Lack of internal cooperation is a hinder to promote the national strength. Local firms are still being afraid of risks when sharing work amongst other domestic ITO enterprises, which resulted in losing projects to other countries. Many ITO enterprises still mainly compete with competitors in terms of price, not quality which may affect customers' perception towards Vietnam's ITO service quality. Besides, global competition is increasing fierce. According to IT research and advisory firm Gartner, some countries in Southeast Asia like Indonesia, Bangladesh and Thailand are also posting rapid growth in software outsourcing.
Market trend
The evolution of these drivers will continuously shape the IT outsourcing markets. The future demand are focusing on application segments such as Mobile gadgets, Automotive, Robotics, Cloud, Security, Surveillance and MI. Another trend is Transformation of Clients and Suppliers working behaviour like Transition of Jobs, Creativity and Innovation, QA and TTM.
Rising Stars in Southeast Asia – Business Opportunity Analysis